I love sharing movie reviews of films I love, such as Disney classics or newly released masterpieces. Sometimes there are a few that aren't exactly Oscar-worthy, but are still fun DVDs to have in stock – especially if you have a tween or teen in the house and need to keep them and their friends entertained. Two such cases are the recent DVD releases of Geek Charming and The Three Musketeers. I thought I'd give you a quick review of each.
First let me say that I have a soft spot for all teen-angst/coming of age films, so I was actually excited to sit down and watch Geek Charming with my daughter. I also love the actress in the lead roll on Modern Family (Sarah Hyland), so I was looking forward to see her in a feature-length film. Geek Charming is the classic coming of age story of: girl has old friends, girl makes new popular friends, girl sees the error of her ways and it all works out in the end. Sort of a Clueless-meets-Mean Girls, with a Disney twist. My daughter loved it, I thought it was cute…if you have a tween girl, she'll want it!
Check out a clip below: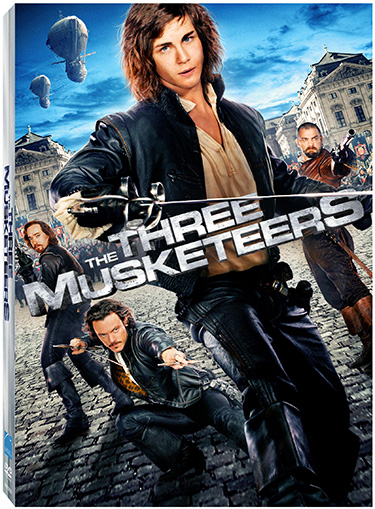 Next up is The Three Musketeers. When I saw the trailers for this movie, I was super excited to see it. I'm a sucker for 17th century France, what can I say. I never did get around to seeing it in theatres, but was happy when the DVD arrived in the mail to review. When it did arrive, my daughter was the one who couldn't wait, since it featured Logan Lerman from Percy Jackson. Orlando Bloom and Milla Jovovich didn't hurt either. 😉
As predicted, she loved the film. I wasn't really that impressed with the acting, but the special effects and costumes made it worth watching alone. You can tell by the ending of the film that they were probably hoping to capitalize off of this franchise into a series, but I'm not sure that the box office returns supported that hope. Either way, the two films together make for great must-watch films for a tween or teen sleepover or party and are great to have on hand for family-friendly viewing.
Here's a clip with the lovely Milla Jovovich:
Both films are now available on DVD or Blu-Ray. Thank you to Disney, who provided me with DVDs to review.