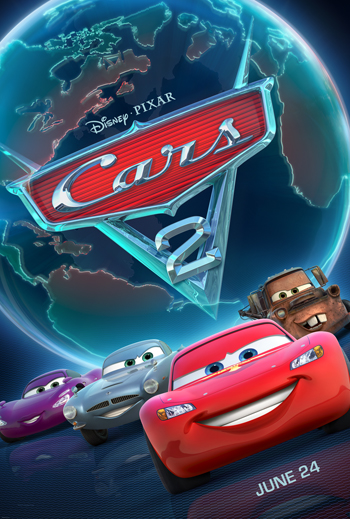 *This review may contain spoilers, so please proceed in reading at your own risk, thanks!
This past Saturday I was treated to a review of Disney • Pixar's latest film, Cars 2 in 3D. There has been a lot of hype leading up to this movie and I was starting to wonder if the film would live up to all of it. Disney has a history of giving everything a sequel (or two) and I worried that the classic story and beautiful animation we all loved in the original Cars would somehow be compromised. It wasn't going to be like Toy Story 3, where everything was based on tying up story lines and tugging at our heartstrings.
Cars 2 really achieved a balance of a dual kid-friendly story wrapped within a more adult theme, blanketed in absolutely breathtaking visuals and detail. The main theme of the movie is of course Lightning McQueen (Owen Wilson) venturing out beyond the States and its familiar "Piston Cup" to compete with international vehicles in the World Grand Prix. The adult story comes in when the organizer of this World Grand Prix, Sir Miles Axlerod (Eddie Izzard) is attempting to highlight the importance of alternative fuels. This is where the espionage, fuel debate and James Bond-like action come in. Most of this will go over younger kids heads and their focus will be on the real story, that of friendship and loyalty.
Since his regular pit crew is off for the season, Lightning McQueen, in accepting this challenge to compete in the World Grand Prix, must bring his Radiator Springs pals along to Tokyo, Japan, the fictional Porto Corsa, Italy, and London, England. Tow Mater (Larry the Cable Guy) acts the part of the stereotypical "ugly American" and gets caught up in a secret spy mission, where he is mistaken for a secret agent by British Intelligence cars Finn McMissile (Michael Caine) and Holley Shiftwell (Emily Mortimer).
The story here is really Mater-centric and therefore chock-full of gags and visuals that keep the kids (and adults) giggling. Being a lover of all things Japanese, one of my favorite parts was Mater's visit to a Japanese bathroom with its interactive and full-service toilet!
As the World Grand Prix and the story races on, we are treated to stunning visuals of Tokyo's Ginza district pulsating with lights and advertisements, London and Paris with it's beautiful architecture, and Porto Corsa, a coastal city created for the film and combining elements of Monte Carlo and the Amalfi Coast which will make you wish you could plan a vacation there as soon as you leave the theater. Amid all of these true-to-life visuals, the Pixar team has created Car-i-fied versions of landmarks and monuments, so detailed, you will question whether they really belong on the original. As I said on twitter after seeing the film, the kids will love the story (as mine did) but I want to watch the movie 20 times just to drink in all of the amazing backgrounds.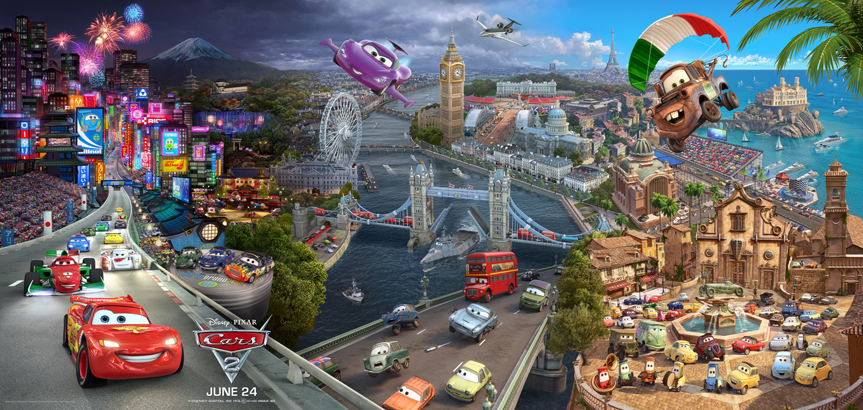 In truth, I'd watch the film multiple times just to get all the cute car jokes as well. Almost every car on screen has a name with a nod to some human counterpart. I think my favorite may be Brent Mustangburger. Disney • Pixar are known for impeccable detail and story, and Cars 2 is no exception. The soundtrack was a perfect fit as well. I feel confident in recommending it to all ages and can't wait to enjoy it again. Be sure to get there for the previews to enjoy the short Toy Story Toon: Hawaiian Vacation, which was wonderful. We also enjoyed previews for the upcoming Muppet Movie and Disney • Pixar's Brave, which I am so, so excited about.
Disney • Pixar's Cars 2 presented in Disney Digital 3D opens in theaters June 24. You can find more information, activities and fun at Disney.com/cars and become a fan on Facebook by liking DisneyPixarCars.