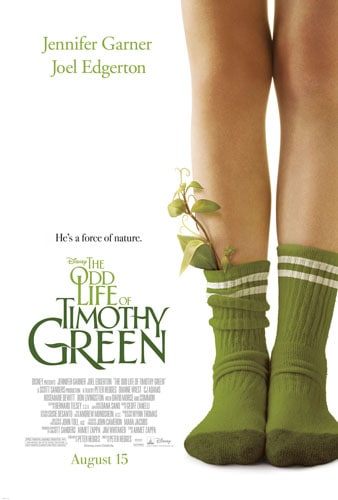 I was almost reluctant to attend a media screening of Disney's The Odd Life of Timothy Green, simply because I knew it would be a tear-jerker. Since I cry at the drop of a hat (just watching or listening to other people's kids at Walt Disney World makes me tear up all the time, in addition to, of course, my own), I knew I was in for it when the premise was a couple who dreamt up the perfect child and he appeared in the garden one night. That said, I still wanted to see exactly what happened and where the story took us.
The tale unfolds in fictional Stanleyville, the "Pencil Capital of the World." Filmed in Georgia, the town represents "Anywhere, U.S.A.," bringing us back to a simpler time and place. The couple, Jim and Cindy Green, played by Joel Edgerton and Jennifer Garner, work in the small town's pencil factory and pencil museum respectively. They live in an adorable farmhouse, and seem to want for nothing – except for the fact that despite trying everything they could, they were unable to conceive a child they so desperately wanted. Cindy handles her grief by wanting to just move on and put the pain behind them, while Jim decides that they need to write down qualities that they'd want their dream child to have. They laugh and cry together as they create this perfect little person on paper, then put the papers in a box and bury it in the garden. That night a crazy storm arrives and with it, Timothy – an 11-ish year old boy who appears with leaves on his legs, wanting to call the Greens "Mom and Dad."

Click to watch the trailer.
Once the shock wears off and they realize that this is, in fact, the child they dreamed of, the real parenting begins. The film then brings us on a journey of life lessons, laughter, and heart, as we all fall in love with Timothy. Of course, Timothy Green is no ordinary child. In addition to the leaves, which his parents hide with socks, warning him that not everyone will understand, he also stands with arms raised when the sun shines, seeming to soak in its rays and be rejuvenated by them. In this way, I was reminded of the movie
Powder
, where someone so different arrived on the scene and everyone was able to learn from his differences. Timothy's odd behavior attracts the attention of a girl who also feels different, and the two form a lovely relationship full of friendship, love and beauty.
The overall tone of the movie reminded me of classics like Big, a film which I love watching because of the feeling of "home" you get and the lessons the characters learn along the way. Timothy Green is no exception, leaving us fondly remembering childhoods and family, and giving us messages of hope and love. The performances within the film are wonderful as well, CJ Adams as Timothy is just captivating and will own your heart. We can all identify with the various characters portrayed, from annoying bosses to competitive siblings to parents we don't want to emulate, making the film relateable to all.
There are some details I won't give away here, but I can definitely see The Odd Life of Timothy Green becoming a family classic. We are left remembering what's truly important in this life, and, parent or not, how we treat others becomes how we live our lives. I definitely recommend watching it with family and friends, and hugging when it's all over.
The Odd Life of Timothy Green opens August 15 in theatres everywhere. You can "Like" The Odd Life of Timothy Green on Facebook or Follow The Odd Life of Timothy Green on Twitter.