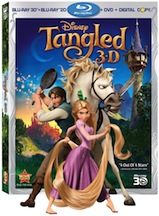 I recently received the Tangled DVD/Blu-Ray combo pack and I can tell you it's been playing non-stop in ZannaLand ever since it arrived! I'd forgotten how simply beautiful the animation was in this film, not to mention the wonderful songs and funny lines. It is quickly becoming one of my favorite Disney films, if not the favorite. I know it's my 10 year old daughter's fav! (In fact, it's playing right now as I write this!!)
We've been enjoying the bonus features as well, seeing the deleted scenes in a sketched animation format is really cool. Finding out that "The Snuggly Duckling" was almost "The Jaunty Moose" was great! There are some wonderful commentaries as well, so even if by chance you get tired of playing on repeat in your home, you can switch it up and find out some great behind-the-scenes facts about the process.
And who can forget faithful sidekicks Maximus and Pascal??
Tangled is now available on DVD, Blu-Ray/DVD combo pack AND 3D Blu-Ray/Blu-Ray/DVD and Digital Copy 4 disc set —
Thanks to the Tangled promotional team, I can offer a giveaway of a Tangled dvd and a surprise bonus gift (one of the following: a Pascal Beanie Baby, Flynn Ryder or Rapunzel T-Shirts, or Official Disney Paper Lanterns) to one lucky reader!
Here's how to enter:
1. Rapunzel discovers that she is a strong woman and can take care of herself outside of the tower. Check out the Tangled Widget below and explore your family's hidden talents. What are your hidden strengths? Comment below sharing your strengths or talents.
Contest now over, thanks to all who entered and spread the word!!
CONGRATULATIONS to Tony Mendyk who was picked from random.org as the winner!

Additional entries:
2. "Like" ZannaLand on facebook. Leave a separate comment letting me know.
3. Follow @zannaland on twitter and tweet the following:
"I just entered to win #Disney's #Tangled on dvd from @zannaland and you can too! http://bit.ly/tangledgiveaway #giveaway #contest"
Leave a separate comment letting me know. You can tweet as many times as you like, but don't spam your twitter friends!) 😉
4. Subscribe to ZannaLand posts via email or RSS feed (email box is to the right) and comment letting me know.
5. Share this this contest link on facebook, stumble it, or share it any other way you'd like and comment letting me know. (there are buttons to share on popular sites below this post)
Each entry must be in a separate comment. Winner will be chosen on Friday, April 1 (no April Fool's joke, I promise!) using random.org and announced on this entry. Item will be mailed directly from the Tangled team. Good luck!!