I mentioned previously that I was honored to attend the Walt Disney World Holiday Showcase as a representative of the Walt Disney World Moms Panel. Part of that weekend included a screening of Disney's Tangled before its November 24th nationwide release. I know I've shared some funny clips that Disney passed along showcasing the film, but honestly, they do not begin to do justice to the actual film itself. I realize they are trying to get audiences super excited about what many people view as "just another animated film" but I truly feel that when families of all ages and sizes see the movie, word of mouth will be all that's needed to make Tangled a success.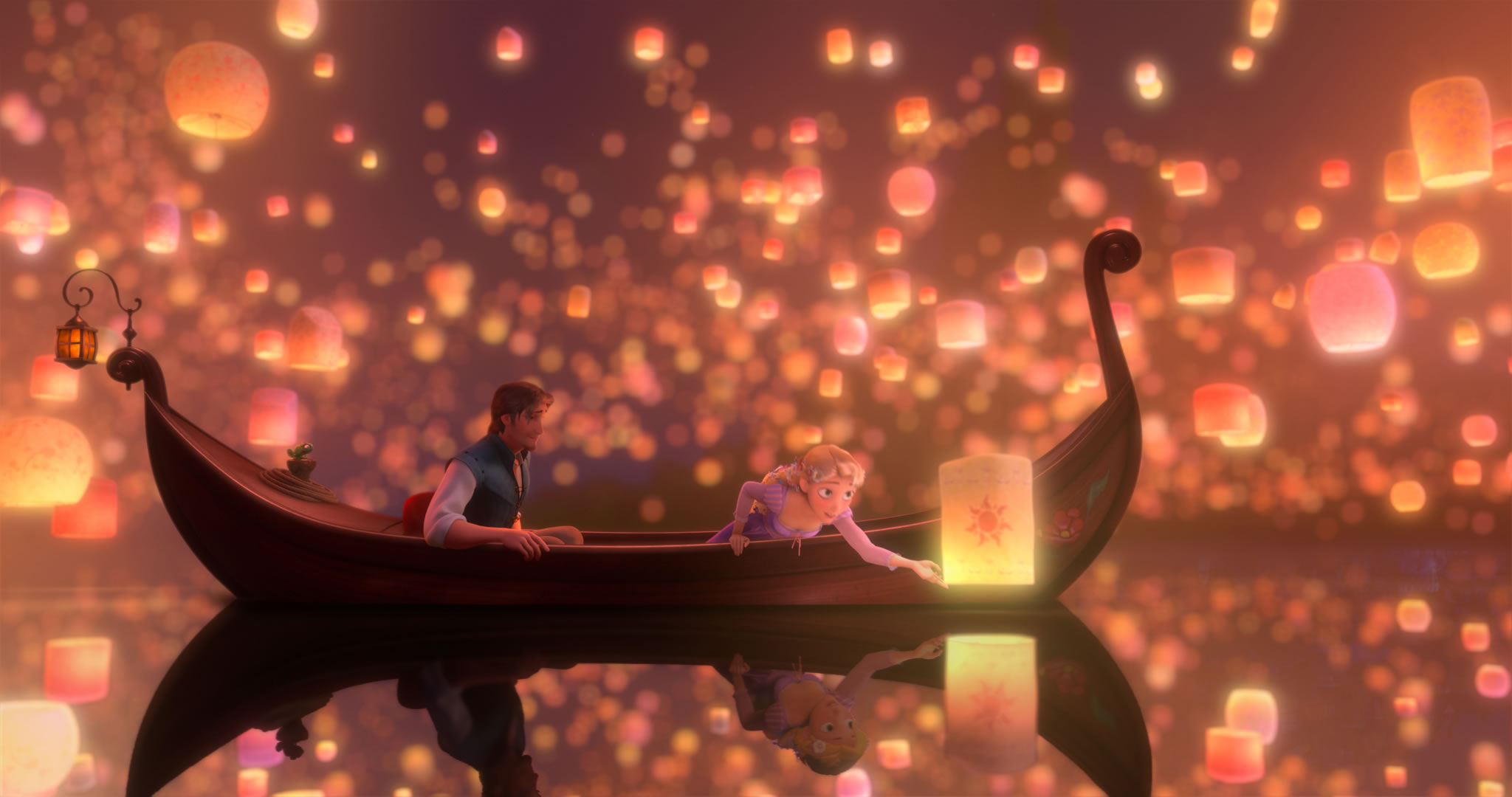 We knew going in that Tangled was the classic tale of Rapunzel, but with a twist. What we didn't know was the unique backstory that Tangled provides, which actually works. It's sort of like Sleeping Beauty meets Cinderella meets Little Mermaid. Rapunzel's parents have lost her, however unlike Sleeping Beauty, she is stolen by the evil "Mother" Gothel who kidnaps Rapunzel for her own selfish gains. Rapunzel is somewhat happily living in her impenetrable tower up until her 18th birthday, where her birthday wish is to see the "stars" or lanterns that float in the sky each year on her birthday. What she doesn't realize is that the lanterns are set into the sky by her real parents as they continue the vigil to seek out their missing daughter, and the townspeople who also hope for the princess' return.
When she asks her mother if she can go see the lights and then return, of course her mother forbids it, explaining that the world is full of evil selfiish people that will only try to harm Rapunzel. Confident that she can hold her own, Rapunzel begs her mother to reconsider and then sees for the first time the wrath hidden within Mother Gothel. She resigns herself to stay in her tower, until Flynn Rider stumbles upon the hidden valley while escaping the King's guards. Rapunzel then sees an opportunity she cannot pass up.
It is then that the real story begins as we follow along with Rapunzel's first steps outside her tower and all the emotions, adventures, and of course, singing which that entails. The script is a perfect example of teenage angst as Rapunzel worries about disappointing her mother while venturing out into the world, yet loving every detail and blade of grass she encounters. I think adults, both as parents and former kids alike can relate to that scene very well.
Not to leave out the boys from Tangled's viewing audience, Flynn Rider and his adventures in thieving, fighting with bad guys and reformed bad guys, and the entire character of Maximus the horse will keep them entertained. My 11 year-old son, who is at the age where he is blase about most things in general, not to mention Disney specifically, actually loved the film. It's that kind of reaction that warms a mother's heart and lets me know Tangled will be a big success.
I don't want to give away too much of the story here because I think that's part of what let me enjoy it so much, the twists and turns of the plot. The ending really surprised me and I thought it was a well-played twist full of lessons. The lantern scene shown above and the town square scene before it are my two favorite parts of the film, which really showcase Disney animation at its finest. I can't wait to hear what your favorite parts of the movie were!