After seeing several commercials for The Lego Movie in our house, my kids were pretty excited to see it. I thought it was a joke at first; some independent filmmaker deciding to have some fun with Lego. The characters seemed to be poking fun at their own personas and even Lego-building itself. Surely this couldn't be an official thing, I thought. But I was wrong. It was official and after seeing the film at a screening last Saturday, thanks to Legoland Florida, I have to applaud all involved. Following local theme parks and entertainment like I do, it is very rare to see huge corporations have a sense of humor about their own reputation. The Lego Movie was a refreshing and human take on the cult and culture of Lego-building, covering everything from following the included instructions to the way Lego figures move, to the crossing of Lego themed sets from one 'universe' to another. I wont give away all of the ending, but it was definitely a surprise, and made me get a little emotional about the act of play itself, using imagination, and the bonds between parent and child.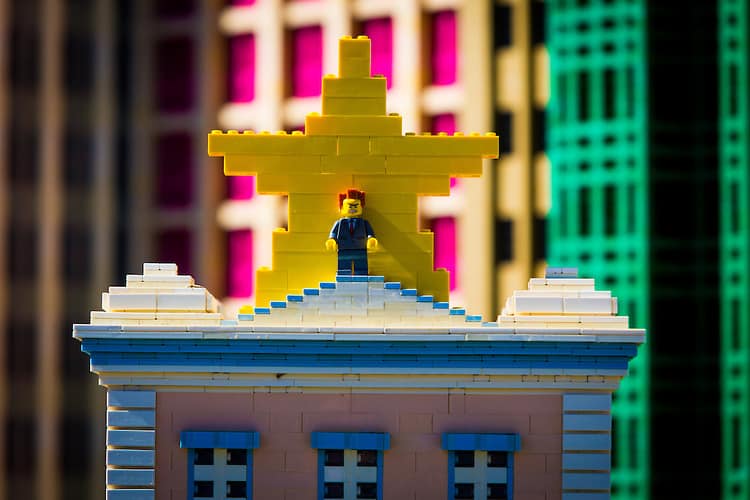 As far as kids go, they will love the movie just because of the cool Lego action – things being built, Legos they've known and loved actually moving and talking, and that absolutely everything is made out of Lego bricks. Filmed using a combination of stop-motion animation and computer animation, filmmakers took great lengths to make sure the animated parts looked like real Lego figures and bricks. The use of water, smoke and bubbles as well as other special effects make you laugh with the realization that yes, that's what Legos would look like in that situation.
Parents and adults can relate to all the old-school Lego references, the relationship humor and the personalities we get to know in the movie. Batman (voiced by Will Arnett) is pretty full of himself, as both a superhero and a boyfriend, while Lord Business (voiced by Will Ferrell) plays the stereotypical bad guy perfectly. And surely we all know someone like Uni-Kitty (voiced by Alison Brie), from Cloud Cuckoo Land, the capital of rainbows and puppies – spouting positivity and happiness at every turn while avoiding reality until their pent up emotions and anger within eventually explode…or is that exclusive to the Disney community? Regardless, the characters and jokes are hilarious and they did not skimp on the voice actors, with greats like Morgan Freeman, Liam Neeson, Will Ferrell, Will Arnett, and Elizabeth Banks on board.
I absolutely loved the opening scene, showcasing the "life of a Lego" or at least how "President Business" (voiced by Will Ferrell) deems life should be. Following instructions to a tee, this sequence will make you want to watch the movie again and again to catch new little references or jokes here and there. We follow Emmet, a construction worker who wants desperately to fit in and have friends, so he follows the instructions every day. When he happens to see Wyldstyle (voiced by Elizabeth Banks), his  ordinary life changes forever. He discovers President Business is actually Lord Business and he is seeking to destroy the planet with the ultimate weapon – the Kragle (super glue to you and me). Emmet stumbles upon the "piece of resistance" (the only way to stop the Kragle) and Wyldstyle takes him to Vitruvius, the somewhat kooky prophet (voiced by Morgan Freeman) as they attempt to save the world. Emmet finds himself in the process and the ending will have you wanting to run out and build an entire Lego world yourself. Definitely a must see (and see again!).
In coordination with the launch of the first-ever, full length theatrical LEGO® adventure, "The LEGO® MovieTM", LEGOLAND® Florida celebrates with a movie-themed weekend in the park on Feb. 8 and 9. Guests can head to their local theatre to watch "The LEGO Movie," opening nationwide on Friday, February 7, and then come to LEGOLAND Florida to see LEGO come to life amidst more than 50 rides, shows and attractions and special movie-themed fun all geared for families with children ages 2 to 12.
"The LEGO Movie" Weekend at LEGOLAND Florida includes the following activities:
"The LEGO Movie" Scavenger Hunt – Miniland USA
Movie characters Emmet, Wyldstyle, Lord Business and MetalBeard are lost in Miniland USA. Guests can help find them to save the day! Guests can submit an entry to win a LEGO Prize Pack at www.LEGOLAND.com. See website for official rules.
"The LEGO Movie" Video Game Challenge – Warner Bros. Games Zone 
Gaming fans can test their skills and play the latest action-packed video game, "The LEGO Movie."
Build Your Own World Competition – Imagination Zone
Guests can use their imagination to build their own unique LEGO model. LEGOLAND Florida Master Model Builders will select a winner from each event day to receive a LEGO prize pack. Official rules will be available at the park.
"The LEGO Movie" Mural Build – Imagination Zone
Families can build together and help create a giant LEGO poster of "The LEGO Movie."
Character Meet & Greets – LEGO City
Fans can walk the red carpet and meet two of the stars of "The LEGO Movie." Emmet and Wyldstyle.
"The LEGO Movie" Weekend is included with park admission and guests will have complete access to a full day of theme park fun with more than 50 rides, shows and attractions. The best way to experience LEGOLAND Florida is with the LEGOLAND Florida Resident Annual Pass as low as $99 each. Pass members receive unlimited admission for 12 months to LEGOLAND Florida and the LEGOLAND Water Park, as well as all other Merlin US attractions (LEGOLAND California & Water Park, LEGOLAND Discovery Centers, Sea Life Centers and Madam Tussauds), free parking and 10% off food and merchandise with no black-out dates. For the most current information on special events, daily operating hours and to purchase tickets, visit www.LEGOLAND.com.
I'll be at Legoland Florida this Sunday live-tweeting, instagramming and posting on Facebook so be sure to follow along! Thanks again to Legoland Florida for providing my family with tickets to see the movie, and tickets to their park this weekend. My opinions and thoughts are my own, as always!