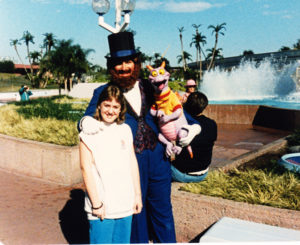 Most little girls have a favorite princess, and while I'm pretty sure I grew up being most attached to Princess Aurora, I was never really fanatical about princesses. I was more a Barbie and Strawberry Shortcake girl anyway. Until my 1983 trip to EPCOT Center of course. You've heard me wax poetic on that magical trip before. While I cannot find a photo of Dreamfinder and I from that first trip, I can assure you, his impact was felt for decades to come.
Princesses were prim and proper and always said the right thing, while Dreamfinder was a bit of a jokester and would react to the guests around him accordingly. Unlike many rides of the time, where you rode passively through them, Dreamfinder spoke directly to you in Journey into Imagination. "Oh, hello there, so glad you could come along. I am the Dreamfinder!" (I still have that entire spiel memorized in my head.) As an impressionable young child, I felt that Dreamfinder and Figment really were bringing me along for the ride to the Dream Port and that imagination was a powerful force within us all. And just as I cried through my entire last ride through Journey into Imagination on that last day of my first trip, I was all the more excited to see Dreamfinder after we moved to Florida when I was 10.
I wouldn't always stop to take a photo with Dreamfinder and Figment, but any time he was out there, I always said hello – and of course, riding Journey into Imagination multiple times was a given. I consider myself particularly fortunate to have had EPCOT Center as my playground during that time in my life. It wasn't an easy transition, moving from a small New England town, close to family and surrounded by friends, to a really tiny central Florida town where I had a three cousins but not much else. EPCOT Center and Journey into Imagination (and Horizons) became my happy place, my refuge from the trials and tribulations of a tween existence, before that age group even had a name. And just as the sweet scent of l'oranges signaled Horizons, Dreamfinder was synonymous with Journey into Imagination. In summary; I liked him.
Fast forward 28 years from that first encounter and I am still as in love with Journey into Imagination and Dreamfinder as I ever was. I walk up to the Imagination pavilion and am flooded with happy memories of joking with Figment, getting soaked with the jumping fountains, the scent of roses, the beautiful white room inside the ride and countless hours playing in the Image Works. I am of course saddened by the changes made to Tony Baxter's masterpiece, but I hold my version of the attraction within my heart. If you did not get the chance to experience the original attraction, check out Martin Smith's video tributes: Part 1, Part 2, and Part 3.
Attending D23's Destination D in Florida back in May, I was brought to tears when Dreamfinder and Figment made a surprise appearance for a sing-a-long with Richard Sherman. My love and appreciation for Disney was renewed that magical night.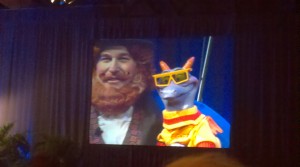 In a random turn of events, I happened to be reading the comments of an old post here. Within the comments, I saw one from a "Ron" that went as follows:
Zanna — It's a funny thing… Figment & I posed for a million photographs back then but I've seen precious few of them. Thanks for posting this one!
I was shocked and amazed that THE Dreamfinder had commented on my silly little blog. Then I realized the comment was a year ago and was disappointed I hadn't seen it prior to now! I replied to the comment and was filled with such joy and validation, as if little 10 year old me had come full circle in life. Or so I thought.
Enter Lou Mongello, well-known Disney fan, expert, and Podfather who runs the WDW Radio podcast and live news show. Lou writes and records audio guides, trivia books and more, has conducted interviews with amazing Disney legends, and given back through fundraising efforts for the Make a Wish foundation. In addition, he is a great friend. During the past weekend Lou and his WDW Radio team were engaging in a 40-hour LIVE web broadcast to commemorate the 40th anniversary of Walt Disney World and raise funds for Make a Wish. (They raised close to $18,000 that weekend alone!) When, on last week's live show, Lou announced a "Special Guest" would be appearing on Sunday, October 2, my mind immediately went to Ron Schneider. Before I discovered Ron's comment on my blog, I never would've guessed, but I just had that on the brain and something told me it was a good possibility. After a series of meet-ups on Sunday, I ventured over to the Imagination building, where I heard the WDWRadio crew would be. Sure enough, there was Ron Schneider, in his Imagination symbol shirt (which I almost wore that day!). I stood close and listened to the tales Ron shared of his time as Dreamfinder and with the Disney company. One of the funniest was the story of how Ron had recorded several takes for the exit safety spiel, including his favorite, "Your ride vehicle and the moving platform are traveling at 5000 miles per hour! Good luck!" They never used that take. I can't imagine why?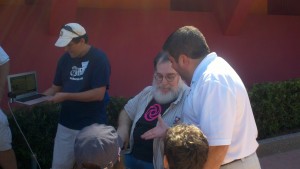 I had prepared my phone in hopes of getting a chance to show Ron the photo about which he commented, in person. When Lou asked if there were questions from the audience, I patiently waited for others to ask Ron to describe favorite memories or parts of his work experiences. Then I raised my hand and let him know that I didn't have a question, but rather a photo to show him, which I did (the photo at the top of this post). He was tickled to see it and remarked again about how rare photos of him as Dreamfinder were. He portrayed the Dreamfinder from 1982 – 1987. I thanked him for the wonderful memories he gave me as a child and how I grew up with EPCOT Center. Tears began to flow as I remembered little 10 year-old me and the lifetime of experiences that has passed between then and now. Hearing my voice break, Ron said, "Oh, come here and give me a hug." So I did. I hugged the Dreamfinder, without the blue suit and top hat, without that little purple dragon, but the man that gave life to both was all that mattered. It was perfect.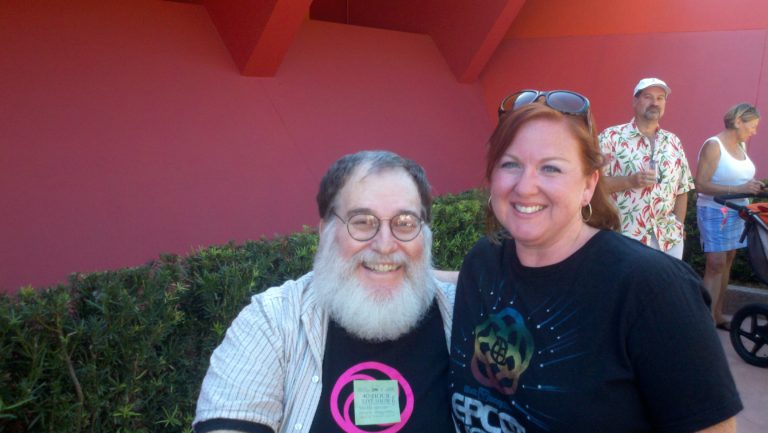 While storm clouds may gather…and stars may collide, nothing can take those amazing moments that Disney and Dreamfinder provided. I truly had come full circle. It's not often you can thank your childhood influences in person, much less hug them. I was so very grateful for the special chance to do so. My oldest son was standing behind me as I was speaking (and crying) to Dreamfinder. I think it was a special moment for him as well, to see that his mom is human, and was once a child full of wonder too. Perhaps he has a bit more understanding as to why Disney is so special to me and such a part of my life. So thank you to Mr. Schneider for taking the time out of your weekend to be there last weekend, and for being a part of childhood memories I hold most dear. Also many thanks to Lou Mongello for making this meeting possible and giving back to Disney fans in so many ways.
Imagination is something that belongs to all of us…and every sparkling new idea can lead to even more! – The Dreamfinder