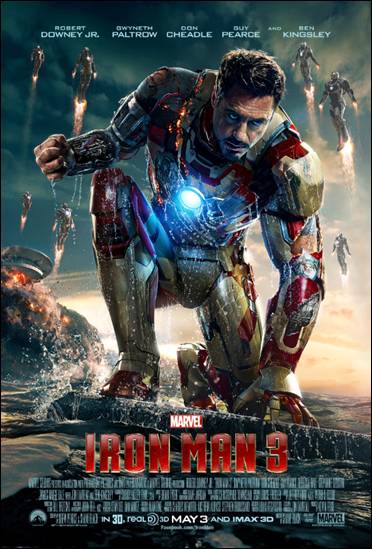 I've said before that it is very difficult to choose a favorite Avenger movie; I do love Captain America and his storyline (and am excited for part two to come out soon), but I do believe Iron Man holds the biggest place in my heart as far as the Marvel movies go. I never really got into super hero movies until Iron Man came out. I had always been a fan of Robert Downey Jr. and when I saw that he had imbued the role with his famous RDJ charm and wit, I was hooked. Of course, the storylines and action were a plus too. So, when I saw the first trailers for Iron Man 3, I was absolutely thrilled with how it looked; so many visual 'wow' moments and it truly left me excited to see more. And more is definitely what I saw, earlier this week at a media screening of Iron Man 3. My review of the film follows, but given the almost crazy amount of twists and turns within the plot, my review will be safely major-plot-point-spoiler-free for your reading pleasure!
I think part of why I love Iron Man, and Tony Stark so much is that at the end of the day, he's just a man. He has no super powers when the suit is off, he's just a guy trying to figure life out too. And those human struggles are where Iron Man 3 begins its story. Tony Stark has been having difficulty dealing with "New York" -as the events of the Avengers film are referred to in this movie. Just as he is at his breaking point of handling the stress, a villain appears on the scene and gives him no choice but to get back into action, save the world, and in the process, save himself.
What proceeds from there on in Iron Man 3 is a series of events that you could never see coming and challenge your belief that it will all be okay in the end. We see Tony Stark pretty much at rock bottom and being forced to rely on others as well as returning to the most base elemental components that make up "Iron Man" and Stark as a human being – he "fixes things." I loved it from start to finish and really enjoyed the humor throughout the film, even poking fun at traditional villains, and of course, Iron Man himself along the way. It really humanized the super human, and made me feel for all of the characters within the film. The theme here is rebirth, reinvention, and getting back to what you know, and it's a message that so many can relate to, myself included.
Here is the latest released clip, showing some of Tony Stark's struggles
I will say one thing, there is a sub-plot within the film where Tony interacts with a young boy, and I thought this was a great addition to the movie and story. The scenes may have worked just as well without this character, but what this young actor brought to the screen was wonderful, and as a parent, even heartwarming to see. It was a great counter-point to the non-stop action going on around the rest of the story. In addition to this, the entire cast works so well as an ensemble, it's great to see more of Don Cheadle and Gwyneth Paltrow in their respective roles.
I can't really say too much else without giving things away, so I'll end my brief but no less heartfelt review here. As I said on twitter after seeing the screening, "Iron Man 3. Amazing. That is all." And really, that's all the review you need, go out and see this movie – today! (And stay past the credits as always!)
Iron Man 3 is open today in theatres everywhere! I was provided a free media screening of the film, but my opinions are my own.
Like IRON MAN 3 on Facebook: www.facebook.com/ironman
Follow IRON MAN 3 on Twitter: @Iron_Man
Visit the website: http://marvel.com/ironman3