Podcast: Play in new window | Download
Subscribe: RSS
A magical fairy adventure for the whole family, Secret of the Wings invites audiences to join Tinker Bell and friends on their new adventure into the never-before-seen mysterious Winter Woods, where Tinker Bell finds out that she has a sister and discovers other incredible secrets that will change her life forever.   The film is the first Disney Fairies movie in more than two years, and marks the first time ever Tinker Bell will fly on Disney Blu-ray 3D.  A DisneyToon Studios production, the movie is directed by Peggy Holmes, co-directed by Bobs Gannaway, and produced by Michael Wigert.  John Lasseter serves as Executive Producer.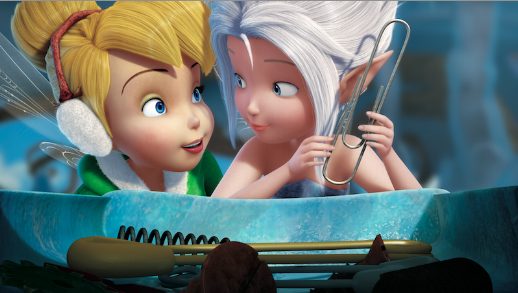 We were able to screen this movie last weekend in 3D and it was just beautiful. My 12 year-old daughter and my 3 year-old son (and me!) all loved every minute on screen. The Disney Fairies films have really set the bar for quality straight-to-dvd animation and Secret of the Wings is no exception, with a wonderful voice cast and music to match. The storyline is a great story of learning from your past but not being afraid to try something new as well as working together to accomplish something great.
Some of my favorite parts of Secret of the Wings were the winter scenes, where animals "cross over" into the Winter Woods and get all new white fluffy coats of fur. Everything is just so sparkly and pretty, it's hard not to fall in love. According to my 3 year-old, his favorite parts were, "the fixed wing part and the Tinker Bell's friend part" and he highly endorsed the film! 😉

(It's kind of hard to pin down a 3 year-old for a video interview!
We had a great time and I can't wait to bring Secret of the Wings home on Blu-ray. It was a wonderful film and a fabulous addition to the to the Disney Fairies family of films. Secret of the Wings flits onto Blu-ray 3D, Blu-ray Hi-Def & DVD on October 23, 2012. You can find lots of fun activities at Disney.com/SecretOfTheWings or head to Facebook.com/DisneyFairies and like the page for updates.
*Disclosure: my family was provided a free screening of this movie in a theatre, but my opinions are my own. Affiliate links are used here, which lets you purchase the DVD at no cost to you, but gives a few cents back to the costs of running zannaland. Thank you!