You're probably used to coming here and reading about how great Disney is in some way or another. Well, after a special event last night, be prepared for me to gush about Disney. I'm speaking of the Disney Parks Blog "Trick-or-Meet Up" which took place last night in the Magic Kingdom's Liberty Square after park closing. This was the Disney Parks Blog team's second-ever tweet-up, the first being the after-hours Star Tours grand re-opening event. I have been lucky enough to attend both and while I had a wonderful time at the Star Tours tweet-up, I have to say, the team really outdid themselves for this Treat-Up.
Guests were encouraged to dress in costume for the event, and many obliged the request. Lots of fun costumes from both attendees and cast members. It was so fun to see creativity in full-force. We all checked in at Blizzard Beach and awaited the all-clear so we could head over in luxury – Disney Cruise Line buses – for the Treat-Up to begin. We were shuttled backstage and entered by the Splash Mountain Frontierland parade gate. Even as a former cast member, these special chances to get behind the magic are always exciting. Of course no photos of this out of respect for the show.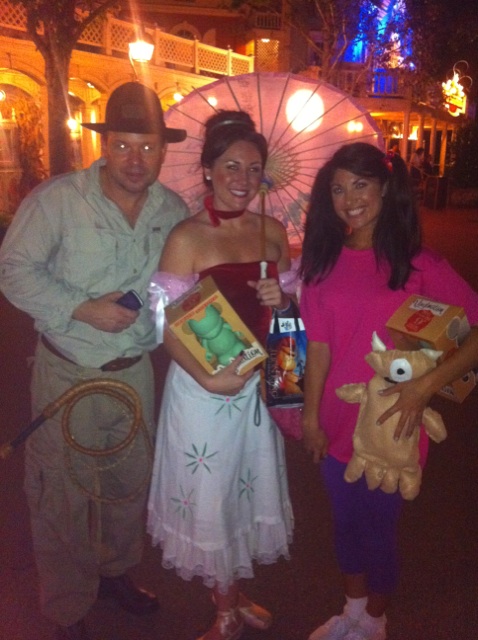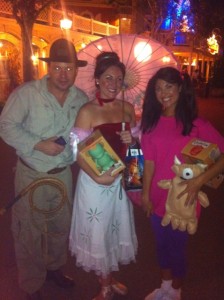 We were ushered over to the Hall of Presidents, where those in costume could pose for formal photos before taking a seat. This was a perfectly organized event and I loved the way it was presented. Getting to hear Director of Social Media, Leanne Jakubowski, speak and introduce members of the Disney Parks Blog team in attendance was wonderful. Gary Buchannan, ever the jokester, was dressed as a giant Disney turkey leg, complete with nametag. Also present were Thomas Smith (aka Indiana Jones), Laura Spencer, Marissa May (as Boo!) and Jennifer Fickley-Baker as well as Steven Miller who escaped the Grid for the night in his TRON: Legacy costume. I sometimes take for granted the names and faces I know through my experiences with the Walt Disney World Moms Panel and this blog, but it was so nice to see the team interacting with guests.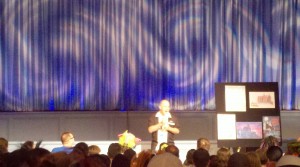 Jason Surrell, gifted Imagineer and Haunted Mansion fanboy all rolled into one, was our first ghost-host for the evening. Inside the Hall of Presidents, he recounted some of Walt Disney World's Haunted Mansion history and differences in the other Haunted Mansion attractions at Disney Parks world-wide. He let us know how important it was for current Imagineers to honor the work of the original designers of the Mansion, noting that Pete Carsillo, who apprenticed under Imagineer Blaine Gibson, took the designs to Mr. Gibson to get his blessing before proceeding. Jason then took questions from the audience which provided more laughs and entertainment for all.
After the presentation, we were each given a pre-filled trick-or-treat bag with a schedule of the evening's events. We could then head over for drinks and a dessert buffet in the form of Mickey rice krispie treats, chocolate-covered brownie spiders and white chocolate cheesecake eyeballs. Ghoulish delights!
Small tours were given of the new interactive Haunted Mansion queue and by two of its designers, Pete Carsillo and Eric Goodman. So far this year, I've had the opportunity to meet five Imagineers. I'm not sure what I expected (other than me not being worthy?), but I am consistently shocked by how down to earth, welcoming and genuine they all have been. Pete and Eric are no exception. It was a treat to see how excited they both were by the details, homages and hidden connections within the queue. I can't wait to go back in the daylight and see some of the details they described.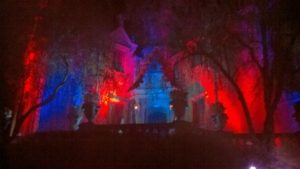 Throughout the night various characters were roaming Liberty Square: costumed Donald, Daisy, Mickey and Minnie, Dr. Facilier, who is my new favorite face character at Magic Kingdom, a couple of Mansion ghost sisters, Dapper Dans in Ghoulish form, and extra spooky Haunted Mansion cast members. Trick-or-treat stations were also set up in the square giving us even more treats than we'd already received.
Randomly selected guests were given blue wristbands at check-in which provided them with a Haunted Mansion hitchhiking ghost poster, signed by the artist, Tom May. I was one of those selected, as was my friend and cohort, Nicole! While picking up our posters, we got a chance to speak some more with Jason Surrell, whose parents and wife were there with him. Again proving how down to earth and real these amazing creative forces are. The fact that Disney has facilitated these experiences is just wonderful and truly how Walt would have wanted it, I feel. To see the number of young high school and college kids on twitter inspired by these Imagineers makes me excited and confident for the future of Walt Disney's legacy.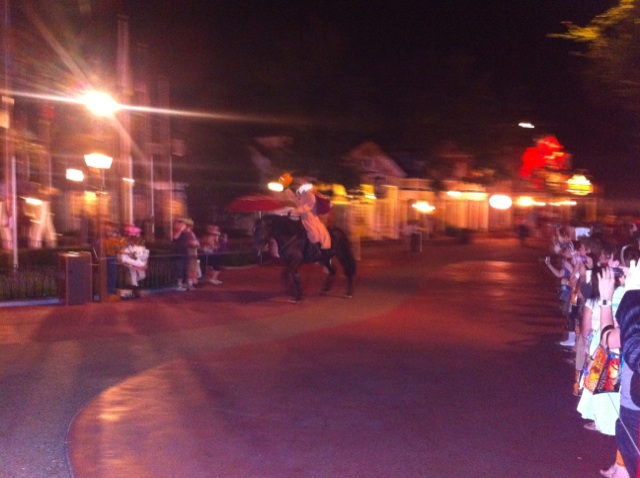 The evening ended with a private viewing of the Headless Horseman trotting through the square, which is always a thrilling sight. On our way back to the busses, we were each gifted with a hitchhiking ghost poster and a Nightmare Before Christmas Pumpkin King Vinylmation. I was blown away by the generosity of Disney at this free event. The personal level of interaction, the behind-the-scenes tours and feeling like the Disney Parks team was just as happy to be there as we were, made for an A+ event from start to finish. Thank you again, Disney Parks Blog team, Imagineers, and everyone that made last night a thrilling success. I know I'm not alone in hoping there will be a similar holiday tweet-up in the next few months!
The Disney Parks Blog recently launched their facebook page, with behind-the-scenes videos and tidbits. Be sure to "Like" the page and follow on twitter to get the latest news and updates.