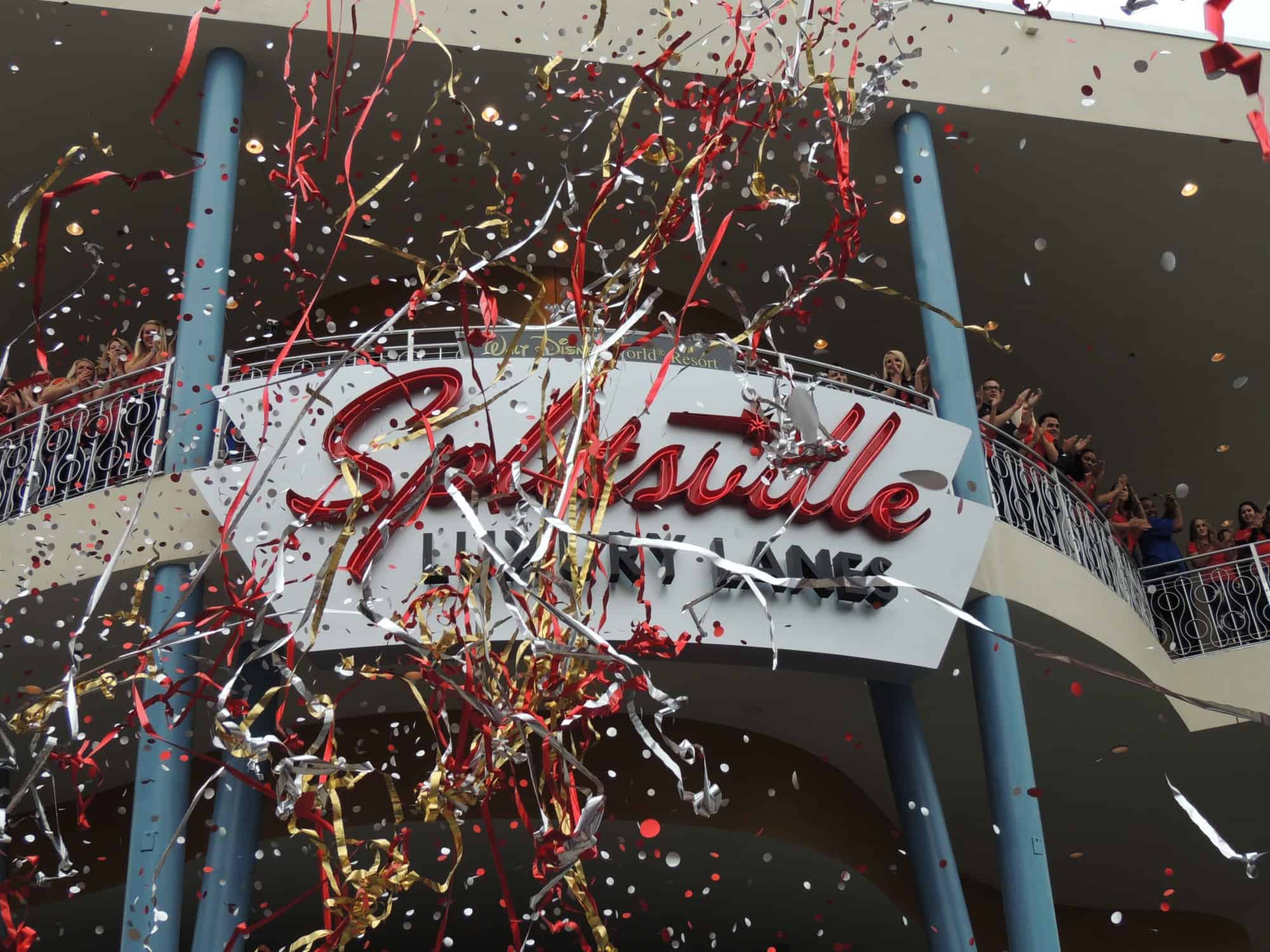 There's a new kingpin in town, Downtown Disney that is! After much anticipation, Splitsville luxury lanes is set to open Wednesday, December 19 in Downtown Disney's West Side. Splitsville is bowling like you've never experienced before (unless you've visited one of their other successful locations across the country) – all of the fun of bowling with friends and family, mixed with great food and an even better atmosphere.
Set in the former Virgin Megastore building, Splitsville has completely redesigned the building and it is a marvel to see first hand. The process at Splitsville is a little different; you sign up for a bowling lane and tell them your shoe size and they bring the shoes to you and set you up in a lane. Then you get 1.5 hours of bowling and can enjoy drinks and dining while you bowl. If you'd like to just hang out for the music or food, that's cool too. The second floor of Splitsville in Downtown Disney is only open to those 21+ after 10pm. Regular hours are from 10am-2am, 7 days a week. Pricing varies based on when you go, but for now it is $20 per person for an hour and a half of bowling, including shoe rental, during the peak hours of 5-10pm. If you'd like to bring your whole family, you are welcome to bowl downstairs where there is no age limit – drinks and food are still available downstairs as well – including a sushi bar!
After experiencing the vibe at Splitsville in Downtown Disney twice now, I am excited for the potential this brand has to invigorate and enliven the Downtown Disney atmosphere. I know there is a great need for things to do at Walt Disney World "after hours" since most things close at midnight or before, so this seems like a natural fit for couples and solo travelers visiting the World, as well as, of course, locals. Whether there will be discounts for locals, cast members and annual passholders remains to be seen, but I am sure Splitsville will be a great fit and personally look forward to the future with possible bowling leagues and fun get-togethers among friends.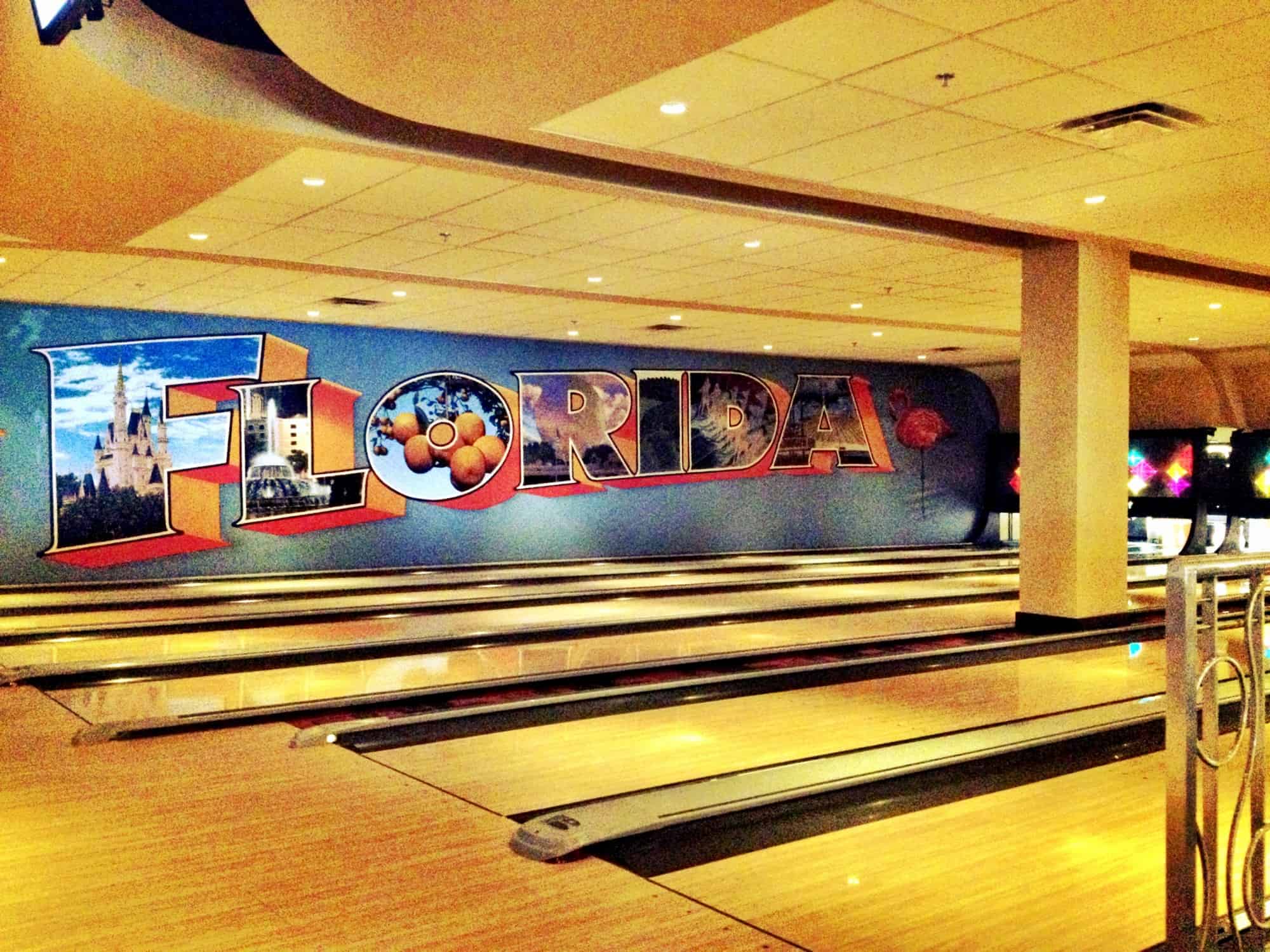 The decor and theming in the Downtown Disney Splitsville is just fantastic. They have kept the retro 50's bowling theme going with shiny red and black vinyl and mid-century modern lighting everywhere, along with adding some touches specific to our location, like Orlando-specific landmarks and nods to our orange grove history. In addition, downstairs is an absolutely amazing mural designed after the 1970's merchandise bags which Walt Disney World history buffs love so much. It is just a perfect fit and a detail which did not go unnoticed or unappreciated by the many fans who visited the lanes before its official opening. Well done, Splitsville and Disney!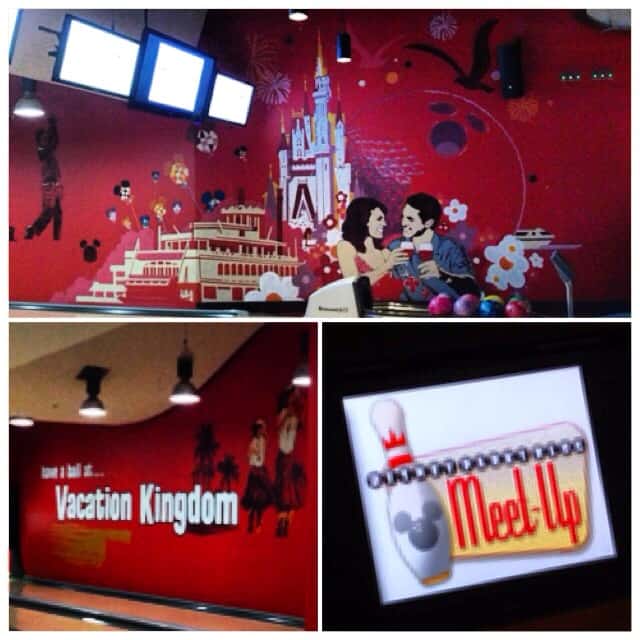 In addition to the nightly bowling, billiards, dancing and dining, Splitsville Orlando will be offering New Year's Eve 21+ packages, with ($175 per person) or without ($100 per person) bowling which will include food options, drinks and Champagne with a reserved table for 3.5 hours. You can contact [email protected] or call 407-938-PINS for more information and reservations. You can also make lane and special event reservations online for birthdays and more.
Here's a gallery of more images from Splitsville Orlando:
Disclosure: I visited the Splitsville Downtown Disney location as media during a special dedication event on December 7, and also as a guest of the Disney Parks Blog meet-up, held on December 17. I was provided with free bowling, food and drinks during both visits. My opinions and thoughts are my own and unaffected by this access from Disney. My thanks to Walt Disney World and the Disney Parks Blog for the opportunities. Keep an eye on the official Disney Parks Blog for future meet-ups, as well as the @WaltDisneyWorld twitter account for a hint or two before the meet-ups are announced.