Locals and frequent visitors alike have witnessed the Walt Disney World Resort landscape change over the past 20+ years with the addition of "Disney's best kept secret," or Disney's Vacation Club (DVC) vacation ownership program. Disney Vacation Club began as a standalone resort, called the "Disney Vacation Club Resort" in 1991. With the success of the vacation ownership program, other resorts were planned and built, causing the original resort to be renamed Disney's Old Key West, which it is still named today. The next property built was Disney's Vero Beach Resort, which opened in 1995, followed the next year by Disney's Hilton Head Island Resort, giving owners an alternative location to use their DVC points but stay in a Disney-like resort atmosphere. A few months later, Disney's Boardwalk Villas were opened to guests and the DVC experience began to spread its way around Walt Disney World as DVC-specific buildings and rooms were added to existing deluxe Disney resort hotel properties. In many cases, the DVC additions blended seamlessly into the established resort grounds. The Villas at Disney's Wilderness Lodge is my particular favorite as far as not disturbing theming or the non-DVC resort experience. Boardwalk also blends in nicely, and while they definitely stand out as different, it's hard to imagine a time before the Beach Club Villas existed.
Things started getting a bit dicey with the announcement and addition of Disney's Bay Lake Tower Resort, which now rises tall beside one the two original Walt Disney World resort hotels – Disney's Contemporary Resort. This news was Initially met with rumblings of outrage and sacrilege among Walt Disney World purists not wanting to mar the classic landscape from 1971. The "blessing of size" that Walt Disney World espoused has been tested many times over, but messing with the 1971 skyline was a different beast. Disney's Grand Floridian had of course changed that skyline too, and has now settled in as an accepted member of the monorail resort club. With the Contemporary moniker, there was some leeway in designing a new building that was, is actually, much more contemporary than its sister across the breezeway. And while many still miss the classic view from Bay Lake as you sail across the water bridge, Bay Lake Tower has fit in and brought not only new Magic Kingdom view rooms, but also a lovely lounge with gorgeous artwork from Disney's original Imagineers.
There was similar concern with the news of the Grand Floridian joining the DVC family, but similar to Beach Club, in an even more seamless fashion, the new Grand Floridian Villas have, in my opinion added to the monorail resort loop, with the lovely and thoughtful additions of Mary Poppins and Sherman brothers touches throughout the resort and DVC units. The building itself matches the main Grand Floridian resort from roof to sidewalk, and we also gained a lovely waterfall between the buildings.

All of this backstory is leading up to, of course, the newest kid on the DVC block, Disney's Polynesian Villas and Bungalows. This location has, unsurprisingly, also not been without concern or uproar. "What about the beach views?!" "But they're SO expensive!!" And yes, they are ridiculously expensive at $2100+ per night for a bungalow. They also do block the water view for those on the ground floor of the concierge level of rooms in the Hawaii building, as well as most of the views from the buildings housing the new DVC studio rooms.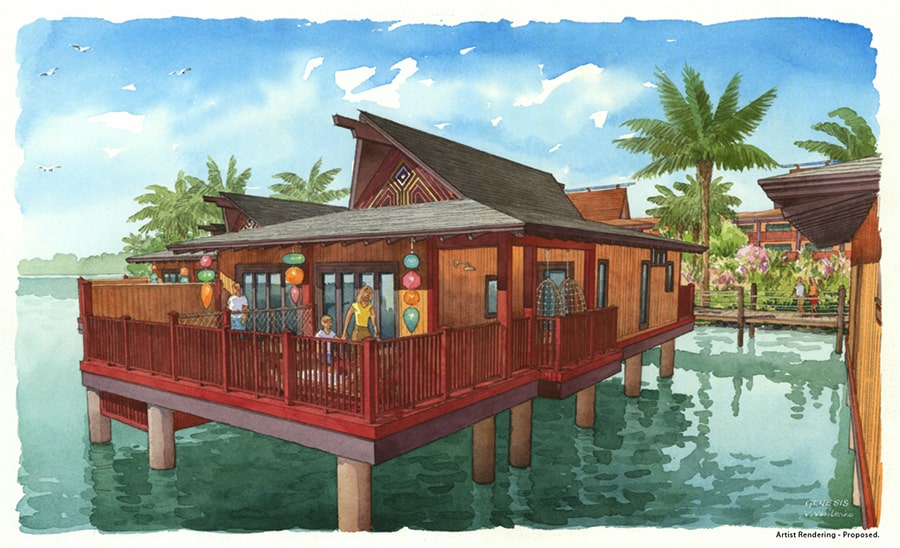 I'll get into price again in a bit, but for now, let me share my thoughts on the views. In my opinion, the new bungalows are actually a wonderful new addition to the sight-line of the Polynesian Village. Why? Because it actually looks like a Polynesian village. When I was touring a bungalow and looking out onto Bay Lake, my reaction really was, "oh, the Grand Floridian kind of looks out of place…" So if you want to go for authentic view, looking out your window to see adorable bungalows makes much more sense than seeing a giant Victorian hotel or even the spires of a castle. As for the fireworks, last time I checked, they were in the sky. That's not to say this new view is perfect. It's just different. If you want to see some things, you may have to leave the comfort of your room and wander a bit. Hang out on the beach, or at the pool. I don't think that's a bad thing. Getting out and exploring is part of what makes the Walt Disney World Resort such a unique experience. For those lucky enough to have views from inside a bungalow, I'm sure seeing a giant Victorian or A-frame hotel in the distance won't be too much of a chore.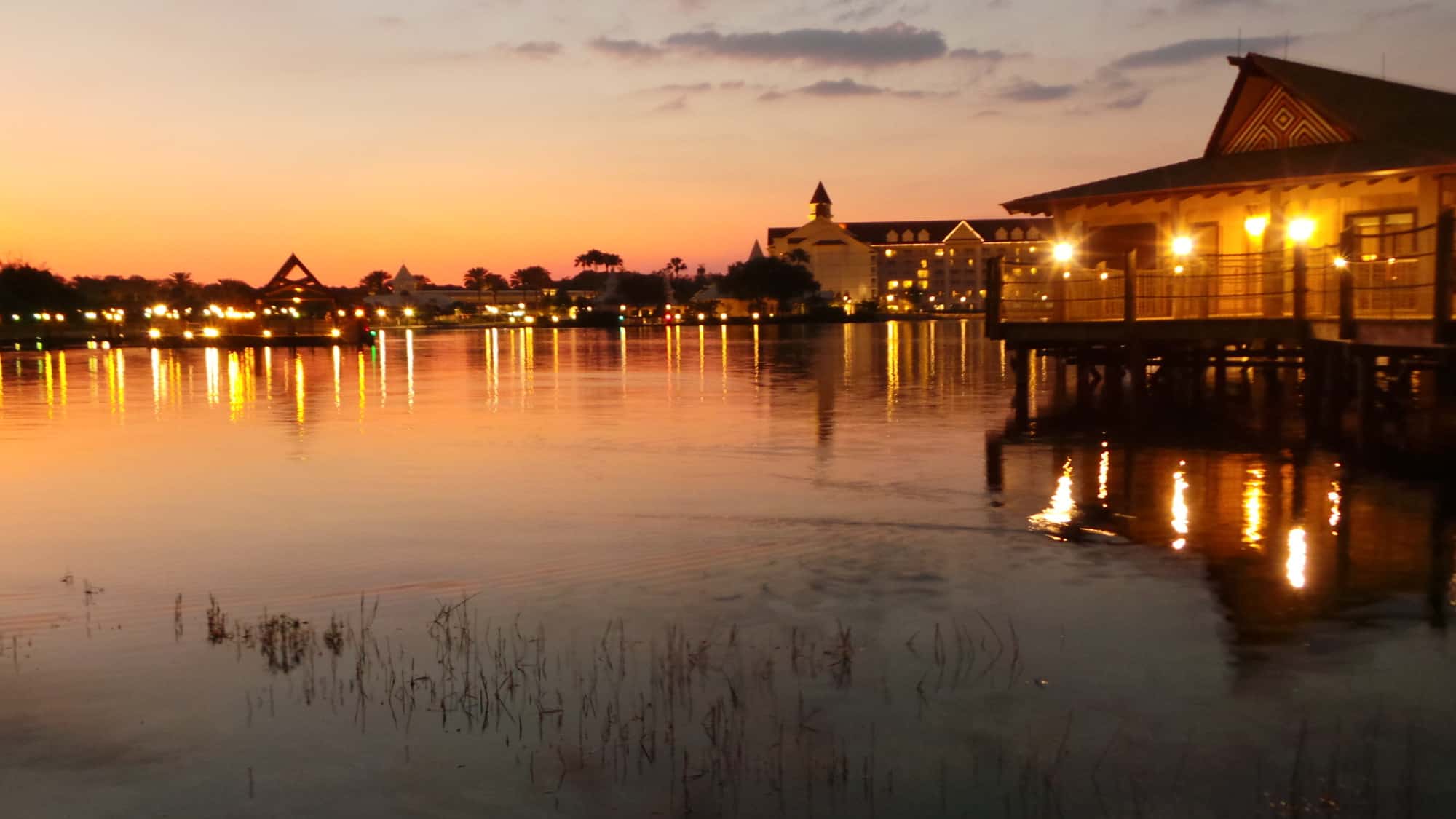 Now, on to the price. Let me preface by saying for those with an actual DVC membership, while yes, these new bungalows will eat up more points per night than you're used to, the sting is slightly less with the additional DVC membership benefits, etc. (but it will still sting at around 110-230 points per night for a bungalow). However, for those with larger families who want to stay on Disney property, the choices are, getting two rooms, getting a family suite at a value resort, or getting a DVC multi-bedroom suite. Before having 3 kids, when we lived in the Tampa area, we'd often get a suite at Old Key West to fit everyone plus my mother in one room. Now with 3 kids, 2 of them teenagers, the sharing of rooms or beds is less than ideal and things become harder. Staying at a 2-3 bedroom DVC suite is not really in our budget, even as locals who don't need tickets or want a dining plan. Of course, staying off property is always an option, and that's actually what we did before moving back to the Orlando area and doing less "staycations." There are SO many timeshare and suite properties within a short driving distance to Walt Disney World that are literally the price of one room at a value resort per night. With choices like that, it's very hard to pick the $400+ to $700+ a night option for most of the standard villas. If you want the over-water bungalow experience, you are going to start at $2100 a night and go up to over $3000 if you want to stay during the holidays. Even dividing that among the possible 8 adults that could sleep there, it would be $263.50 a night just to sleep there. And I don't know about you, but we don't usually charge our kids for their share of the vacation expenses. So why is Disney making these bungalows so inaccessible to the average guest? Quite simply, because they have to.
I'm sure at the time of writing this, the Polynesian bungalows are booked through year end, or beyond. With 20 bungalows, they are in high demand, period. Can you imagine if these were affordable? It would be like trying to book a Christmas day reservation at Cinderella's Royal Table, getting an Anna and Elsa FastPass, and getting in to the new Trader Sam's Grog Grotto, all at the same time. Everyone would want to stay and it would become a huge thing plaguing the Polynesian and Walt Disney World in general. As it is now, there is a presidential suite in each deluxe resort. Most guests will never stay there, or even try to, because the price range is just totally out of reach. These bungalows are no different, they are just out in your face, tempting and taunting you to stay there and enjoy the ultimate in Disney luxury. And this is why Disney as a company is so successful. They can get people to pay $3000 a night for a 2 bedroom bungalow, when you could get a 3 bedroom condo down the street for $99 a night, or even two deluxe suites at the Four Seasons for the same amount as the bungalows. Unlike most other luxury suites of this nature, you won't be getting a private 24 hour butler or room service…but Disney is just not known for that level of service in accommodations, so most people staying there won't think anything of that. In fact, the DVC model is based on stocking the kitchen and making your own meals anyway. Proponents of the Disney Experience will preach that you can't put a value on the memories you will make at a Disney resort…and Disney has answered, oh yes, you can – and we did.
So at the end of the day, where does that leave us? Well, some people will just be able to afford this, it won't be a problem. Others will scrimp and save for years to create the ultimate Disney vacation for their family. Still others will simply use their DVC points and call it a day. Some of us will hang out with friends who book a bungalow and experience it briefly that way. Others will take a stroll around the beautiful grounds of Disney's Polynesian Village Resort, and enjoy the views of the new bungalows, the beach, the new volcano pool, and maybe grab a bite to eat at Trader Sam's or one of the other restaurants at the resort. While the landscape of the resort, and indeed all of Walt Disney World is forever changed by these new accommodation options, it doesn't have to affect our enjoyment simply because it is so far out of our price range. I know I personally love hanging out at all of the resort lobbies and grounds. They are fun places to people watch, take photos, and explore parts of Walt Disney World that we may not have realized existed. I think Disney's Polynesian Village Resort is shaping up to be, for the most part, an improvement on the original. I will still miss the lobby waterfall, and think it was an unnecessary change for the overall feel of the resort, but the remainder of the changes have all been positive from what I've seen and experienced.
Below is a photo gallery of the 2 bedroom Polynesian Bungalow and a few shots of the opening ceremonies with Ken Potrock, DVC general manager and Tracey Powell – VP – Resort Operations – Deluxe Resorts both of whom dedicated the resort with a torch-lighting ceremony signifying the connection of the 3 points of the triangle of Polynesia. The islands of Polynesia are represented at the resort by the buildings of Hawaii (club level rooms), Niue, Rarotonga, Samoa, Tonga, Aotearoa, Tuvalu, Fiji, Tokelau, Moorea, and Pago Pago (the last two returning to their original names with the addition of DVC villa rooms – Tokelau will also contain DVC rooms). The bungalows have been named the Bora Bora Bungalows for added alliteration. All photos may be clicked on to enlarge and view as a slideshow.
The Bora Bora Bungalows are gorgeous. I instantly felt at home and wanted to just move in. The overwhelming feeling I got was that of a family cabin, and I could just picture my kids and fiance and I enjoying a wonderful stay here. I'm not sure if it's because I'm a local or not, but I couldn't imagine wanting to leave the cabins to go to the parks. These bungalows had everything: the latest appliances, tv's, a spa tub, a personal plunge pool, and all the comforts of home. Seeing the water from the long windows in the master bedroom and master bath was so relaxing and comforting to me, not to mention the two decks on the water plus the front porch area. I loved it. I know my family would love it. Disney really hit it out of the park (no pun intended) with these bungalows. The studio villas are equally well-appointed and decorated. I think they will be a great hit among DVCers and regular guests alike, despite the cost.
What are your thoughts on this change to the Walt Disney World landscape? I'd love to hear what you think about any of the topics touched on here. Thank you for reading and following along on instagram, twitter and facebook at the dedication ceremony.