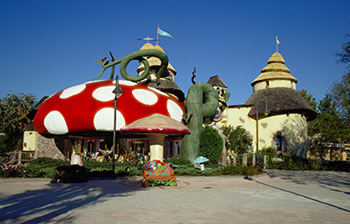 When I first lived in Orlando, I remember driving around looking at neighborhoods and going down this street where I could see giant red-topped mushroom over a wall. Of course, I instantly thought of Walt Disney World and its whimsical architecture, but saw a sign saying "Give Kids the World". I did some research and found out it was an organization that accommodated the wishes of chronically ill children and their families. I knew then it was a place I wanted to somehow help with.
Then, life happened…I moved away and back and away and had my own children. I have been given the gift of 3 healthy children and I understand even more, as a mom, just how valuable Give Kids the World is for children that need it.
For those unfamiliar with Give Kids the World, here is a bit more about them from their site:
A child with a life-threatening illness between the ages of 3 and 18, whose one wish is to visit any of Central Florida's best loved attractions, may have their dream vacation come true by first being identified by a doctor as a child with a life-threatening illness. The child is then teamed up with one of over 250 partnering wish-granting organizations from
around the world, who then refer the eligible Wish Child and their family to GKTW Village. Once a Wish has been approved and recommended by the Wish Child's local wish-granting organization, the Give Kids The World Wish includes:

Accommodations on-site in one of 140 villas
Donated tickets to all three major theme-park resorts (SeaWorld Orlando, Universal
Orlando and Walt Disney World)
Transportation
Meals in our Gingerbread House Restaurant and Katie's Kitchen; and ice cream all day in
the Ice Cream Palace
Many other fun surprises

Everything is entirely cost-free to the family!
[Read more…] about Help Give Kids the World-Where Happiness Inspires Hope