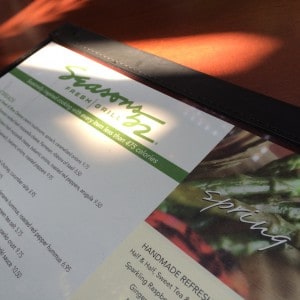 I remember when Seasons 52 opened here in the Orlando area, I was excited about their concept of no butter, no frying, and all meals under a certain number of calories, along with seasonal menus for constant updating and freshness. But then life got in the way and I never did try it out. Boy am I sorry I didn't try it sooner. Seasons 52 invited me out to try their new additions to their Signature Mini Indulgences desserts, and I am now a convert! If you don't follow me on twitter or instagram or facebook, let me fully extol the virtues of these desserts – just read on!
First, Seasons 52 was smart, and had a whole set up for the tasting, we got to pick one of their popular flatbreads, then all the desserts were brought out and paired with three different wines to complement the different flavors in each dessert. Brilliant. Since we had never been there before, I was so glad we got to try some of the food too. We chose the Grilled Garlic Pesto Chicken, which is made with roasted red peppers, balsamic onions, mozzarella, arugula and a pesto caesar dressing. It was delicious. Just the right size to share (we actually could've shared with more than the two of us, but since we didn't eat lunch, it was perfect. The pesto was so flavorful and everything tasted so fresh and just the right amount of crunch with the flatbread. I will definitely be ordering this again, or trying one of the other flavors.
Next, they brought out the desserts, and we got to try all NINE kinds, which again, was brilliant because there is no way I could've decided which to try on my own.
The newest flavors added to the menu starting today are:
The decadent Chocolate Peanut Butter Torte begins with chocolate cake baked in-house.  The rich cake is layered with chocolate sauce, peanut butter mousse and chocolate peanut crunch, then garnished with a tuile – a housemade peanut crisp.
The Belgian Chocolate S'More is Seasons 52's take on the classic campfire treat. This new Mini Indulgence features chocolate cake layered with chocolate mousse and chocolate chips, then topped with a toasted marshmallow and a chocolate dipped graham cracker.
The new Fresh Blueberries & Lemon Curd mini features vibrant, creamy lemon curd slow-cooked in-house at Seasons 52. The curd is mixed with blueberries, topped with whipped cream, and finished with a sprig of Chervil.
Also appearing seasonally and are:
Butterscotch Budino with Salted Caramel – a rich butterscotch custard topped with caramel, finished with Hawaiian black sea salt and a dollop of sour cream (currently available)
Toasted Almond Amaretto Crunch – almond cake soaked in Amaretto DiSaronno, layered with glazed Marcona almonds, vanilla mousse and a pipette of amaretto
Bing Cherry Crème Brulee – Bing cherry compote topped with housemade vanilla custard cream and a bruleed crisp sugar top
And the favorites that are remaining on the menu:
Pecan Pie with Vanilla Bean Mousse and a cinnamon honey-glazed pecan
Carrot Cake with Cinnamon Honey with cream cheese icing and a candied carrot garnish
Key Lime Pie with toasted meringue and a double layered graham cracker crust.
Raspberry Chocolate Chip Cannoli with a cinnamon cannoli shell
Mocha macchiato with chocolate cake, caramel sauce and whipped cream.
It was SO hard to choose a favorite. The ones I loved most were the Chocolate Peanut Butter Torte, because unlike many peanut butter desserts, this was not too sweet and fake-tasting. The peanuts on top were just the perfect crunch. I also loved the Pecan Pie, again, not too sweet. And of course, the S'mores, it's hard not to like chocolate! If you're looking for a light and refreshing option, the Fresh Blueberries and Lemon Curd is for you. The blueberries were perfectly in season, plump and juicy. I also really loved teh Butterscotch Budino. This is like your old favorite butterscotch pudding all grown up. The Hawaiian black sea salt was ridiculous. It brought out all of the butterscotch and caramel flavors and made your taste buds dance. I need to plan my next visit just writing about this now!
I really was pleasantly surprised by Seasons 52 and must go back and give it a try for a full meal. Again, kicking myself for not trying it all these years! If you weren't aware, all the menu items are under 457 calories and as mentioned above, no butter, no frying. They also have a variety of special dietary needs menus, including dairy free, vegan, and gluten free. The menu changes seasonally, with an additional seasonal specials section added each week and also boast an international selection of 100 wines.
Special thanks to Seasons 52 for inviting us out to try their menu. The tasting menu was complimentary but my reactions and opinions are my own. You can visit www.Seasons52.com, like them on Facebook at Facebook.com/Seasons52 or follow @Seasons52 on Twitter – and call your closest location to make reservations or also book through OpenTable.com. Now go get some dessert!