With so many amazing dining options at Walt Disney World, and for most visitors, a limited amount of days to enjoy them, it can be difficult to experience them all. I will admit that even as a local, it's easy to pass by some restaurants and just go with what you're used to. Our family dinner at Portobello last weekend is proof that it's important to branch out – you may get pleasantly surprised by the delicious creations that lay in wait.
It was a bit chilly the night we arrived for our 6:30 reservation, and the first thing my family remarked on were the cool outdoor heaters the restaurant had, like little obelisks of fire inviting you into the atmosphere. The stone front conjures a feel of a cozy country cottage, and as you step inside the smell of the wood-fired pizza ovens make for an instant welcome. Some of you may have heard of Portobello's meatball bar, featuring its famous meatball sliders. I actually enjoyed those on my last visit there, over a year ago, so as a result, I wanted to be sure to try some of the other options Portobello's menu had to offer.
Our wonderful server, Matt, explained some of the appetizer options and we decided to branch out from our usual family favorite, Calamari. We ordered the Portobello Mushroom, the Sambuca Shrimp and kept the kids happy with the fried Calamari. The Portobello Mushroom was perfection on a plate. Sliced portobello mushrooms on a bed of polenta (a favorite of mine) with Gorgonzola cheese on top and a rosemary demi-glaze that was, as Matt said, worthy of dipping your bread in and cleaning the plate. It was delicious.
The Sambuca shrimp was a very unique dish, given a little drama when it's flambéed table-side. The Sambuca gives the shrimp a sweet flavor and even my adventurous 11 year-old daughter tried one and loved it.
The Calamari was also excellent and not to be discounted just because it's standard Italian appetizer fare. It's so easy to overcook these, making them greasy or rubbery, but Portobello's were neither – they were crisp and light.
On to the entrees, my daughter and I both had the Gnocchi with pork ragu, which was large enough to feed the whole table. The gnocchi were wonderful and I'd never had a pork ragu before, but it was hearty and delicious. Portobello really knows how to do their sauces. We both had lots of leftovers!
My husband ordered the Black Linguini with Florida Rock Shrimp, served with asparagus, tomatoes and garlic. The black linguini is made that color from squid ink, something we had tried at home and my husband knew he loved. It's kind of crazy to see black pasta on your plate, but there really isn't a noticeable taste difference from regular pastas. He loved his dish and said it was prepared wonderfully.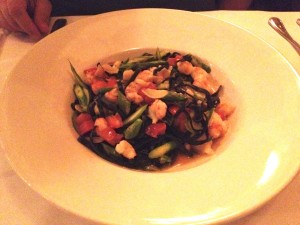 My son, the picky eater, ordered the Flat Iron Steak and loved it. It was sliced and cooked just the way he likes it. I tried it and the seasonings were just right. He also surprised me and ordered roasted potatoes instead of fries. I guess his 13 year-old palate is changing!
Our littlest guy was not left out as their kids menu really has something for everyone. I thought our 3 year-old would order pasta but he's been on a hot dog kick lately. He was perfectly contented with his meal, plus the table top is covered with paper, which kept ALL of us entertained in between enjoying the food.
We were all completely stuffed from all the amazing chef creations, but felt, in the interest of the review, it was our duty to order dessert. You know, for the readers. 😉 Matt did a great job of explaining all the desserts available and my husband went with the Panna Cotta, I chose the Espresso Cake (no surprise for those that know my love of coffee), and the kids all tried a different flavor of Gelato.
Phillip, the wonderful assistant general manager that chatted with us throughout dinner came over to see how we were and was shocked we didn't order the Biramisu for dessert. We told him we were tempted but were won over by our choices. He said we had to try it and brought over two orders mid-way through our dessert. He explained how instead of espresso, they used Orlando Brewing's Organic Porter. If you hadn't told us there was beer in it, we'd never know. It was extremely sweet and smooth, a wonderful take on this classic dessert. Definitely a must-try when you go.
The Espresso Cake was wonderful as well, almost a combination of coffee-flavored cheesecake mixed with a cookie dough consistency, with chocolate chips. Sinfully good. My husband's Panna Cotta was without a doubt, my favorite (and his too). Similar to flan in texture but with no eggy taste, this was light and creamy and just melted in your mouth. It is topped with a local Winter Park honey sauce with strawberries on the side and I just can't say enough about it. It was the perfect amount of sweet without feeling too heavy. In my opinion, another must-try.
I was really surprised that Portobello incorporates so many local Floridian ingredients and still turns them into classic Italian dishes we all know and love. The same Winter Park orange blossom honey used in the Panna Cotta is also put into their lemonade, which was incredibly delicious. My daughter loved it. I would've ordered it too if I hadn't loved my Cafe Shakerato (iced coffee with a hint of vanilla that instantly endeared me to Portobello – they speak my language!). It is a unique way to make Portobello stand out from other Italian options and expand our palates as well. In two words – it works.
All in all, the meal was all hits with no misses. The staff is knowledgeable and personable, making you feel like family and the chefs bring out the entrees, reminding you that this is in fact, home to culinary prowess. As I was tweeting parts of our dinner the other night, I received many replies from people that hadn't given Portobello a try – to them I say definitely add this to your list. And locals, it makes a great date night spot too, with beautiful views! I think perhaps the best recommendation comes from my son – his 13th birthday is on Monday and when asked where he wants to have his birthday dinner this weekend, without hesitation he said, "well after Sunday, Portobello!". Done.
Great thanks to Levy Restaurants, who provided us with our complimentary dinners for this review. This compensation did not in any way influence my review and the fact that we're heading back there this weekend should be proof of that. In addition to Portobello, Levy Restaurants also runs Fulton's Crab House and Wolfgang Puck's Grand Cafe, two other great options at Downtown Disney. Also huge thanks to our server, Matt and the assistant General Manager Phillip, who gave us a tour of Fulton's after dinner which provided us with both some amazing views of Downtown Disney, and memories to last a lifetime. You can check out more photos from our dinner at my facebook page: facebook.com/zannaland.