A Portrait of Walt Disney World: 50 Years of the Most Magical Place On Earth 
By Kevin Kern, Tim O'Day & Steven Vagnini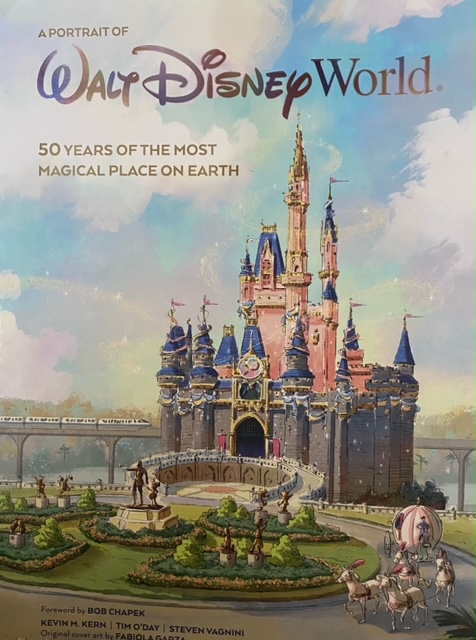 "The boys and girls of the world regard a visit to Walt Disney World … as a must in their lives. It's a magnet, it's a mecca for the dreams of youth and for the inspiration of mature people." Herb Ryman, Disney Legend, Imagineer and artist
When famed Disney artist and then-retired Imagineer Herb Ryman spoke these profound words in 1982, just after the opening of the brand new masterpiece EPCOT Center, little did he know just how prophetic he was, with Walt Disney World since growing to gargantuan proportions, with four full-fledged theme parks, two epic water parks, a massive shopping and dining district, more than two dozen themed hotels, a campground, and more leisure and recreational activities than one can possibly imagine.
It was right around this time, with the shiny futuristic Spaceship Earth beckoning me, that this Orange County California boy of 12, then fully devoted to the only thing he possibly knew or cared about, Disneyland, became fully aware of the wonders of Walt Disney World, and set his mind on getting his family, some way, somehow, to take a summer family vacation to the Most Magical Place on Earth. I finally got that trip in May and June of 1984, and my life changed forevermore, and I knew I'd spend the rest of my life here, in the other Orange County, in the shadows of the very Cinderella Castle that Herb Ryman so beautifully designed years before.
For its 25th Anniversary in 1996, noted Disney historian and author Jeff Kurtti graced the world with his amazing quintessential history of Walt Disney World up to that point, Since the World Began: Walt Disney World – The First 25 Years, and it has held a prominent place on the center bookshelf of my vast Disney book collection, and I've turned to that book time and time again in my never ending research of Walt Disney World.
As the 50th Anniversary was growing closer, I was hoping the Company would once again turn to Jeff to write a Part Two, the 2nd 25 Years of Walt Disney World. Alas, that did not happen. But instead, we Disney fans were in for a treat! Not one, not two, but THREE!! fully qualified Disney historians were tapped to author the companion book of Disney World's Golden Anniversary. When I saw the names attached to this project, I knew it was in the right hands. 
Kevin Kern is a longtime Walt Disney Archivist and an accomplished Disney historian and writer; Tim O'Day is one of the foremost experts on Disney history and an amazing idea man who has worked on countless Disney special events; and my dear friend Steven Vagnini has been a constant champion of Disney heritage and history in his vast career with the Disney Archives, the official Disney fan club D23 and his current role in Walt Disney Imagineering.
And boy, oh boy… they did not disappoint.
This enormous 320-page volume is chock full of stories, nuggets, facts, quotes, photographs, captions, drawings, detailed renderings and top secret blueprints, current and historical, of all things Walt Disney World. Rather than the usual chronological format, the authors chose to organize the proceedings almost by using the famous Disneyland plaque "Here You Leave Today and Enter the World of Yesterday, Tomorrow and Fantasy" as their guide.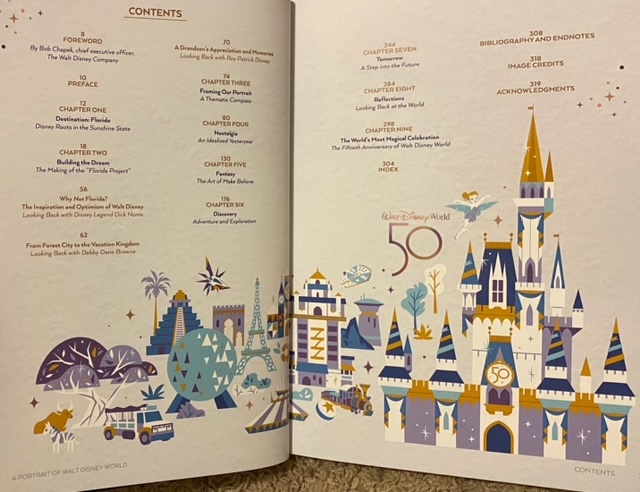 Before they get into that, though, the authors begin the book with a look at Disney's history with the State of Florida, and the inner workings of the Company that led them to build their Resort destination there, as well as the purchase of the land tracts, and the massive construction project that turned the vast square mileage of swampland into The Most Magical Place on Earth. They detail the master plans of Project Florida, including the idea of EPCOT, the progress city of the future, that was initially planned for this land. There are extensive amounts of rare and never-before-seen photographs of the early planning stages and construction, with Walt surveying the Florida landscape just before his untimely passing in December 1966.
This section is followed by three short essays from some very important people, remembering their role in all of this, including: Dick Nunis, the former Chairman of Walt Disney Attractions and Disney Legend looking back at the vast job the Company had ahead of them to build and open this stupendous project; Debby Dane Browne, Walt Disney World's first Ambassador, fondly recalling her early days at the Preview Center, becoming the first Ambassador and her memories of the Grand Opening of the Magic Kingdom and all of Walt Disney World; and Roy Patrick Disney, the grandson of Roy O. Disney, telling stories of his grandfather, who selflessly delayed his own retirement, literally spending the rest of his life to foresee and lead the Company to opening Walt's greatest legacy, dying mere weeks after its Grand Opening.
This is where the meat and potatoes of the book begins, separating all the different Park areas, lands, attractions, shows and other bits of all of Walt Disney World into the four categories of Nostalgia (An Idealized Yesteryear), Fantasy (The Art of Make Believe), Discovery (Adventure and Exploration) and Tomorrow (A Step into the Future).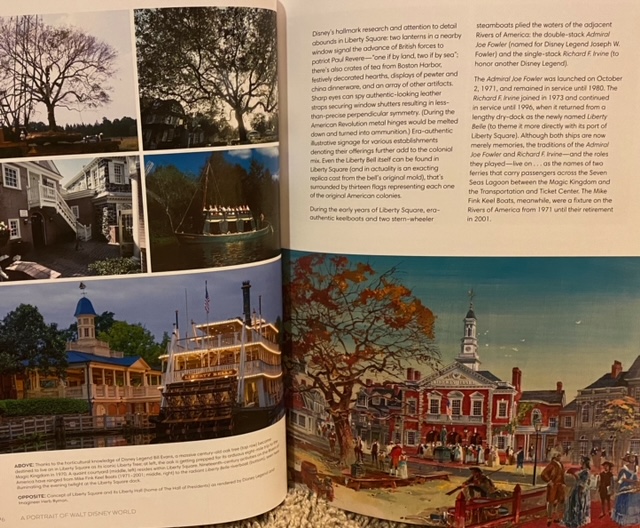 Nostalgia includes examinations of such things as Main Street U.S.A., Liberty Square, Frontierland, Hollywood Boulevard and the Grand Floridian Resort. The Fantasy chapter is where you'll find Fantasyland (of course), Pandora: The World of Avatar, Galaxy's Edge and Blizzard Beach.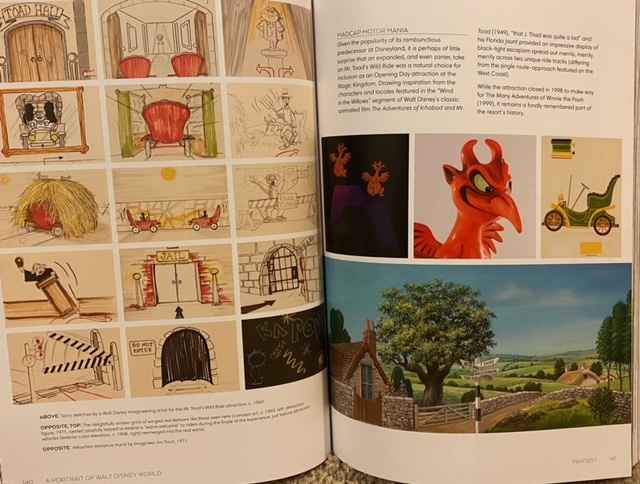 Adventureland, Harambe, The Living Seas, major portions of World Showcase, Wilderness Lodge and much more can be found in the Discovery section. The pages of Tomorrow are where you'll find stories on Tomorrowland, Spaceship Earth, Mission: SPACE, Contemporary Resort, and such unique concepts as transportation, solar energy, the utilidors and much more.
This is such a fun way to categorize all the distinctive individual ideas that make up the entire 50 year history of Walt Disney World, all with comprehensive quotes, captions and researched and notated footnotes (there are separate bibliographic and endnotes listings for the text, the captions and the quotes found throughout the chapters).
I very much enjoyed reading this incredible historical volume, and inspecting all the amazing images found within, examining the details of things I thought I knew so well. I recommend you take a closer look at this book by clicking the image below, or stopping by your local independent bookseller to pick up your own personal copy!
What a way to celebrate 50 years of the Most Magical Place on Earth! Thank you, Kevin, Tim and Steven! Also thank you to Disney Publishing for providing us this book for review. As always, our thoughts and opinions are our own.
There are quite a few other books that Disney has released for the Walt Disney World 50th celebration. I'll link them here: (these are Amazon affiliate links, with a very small portion of the purchase going back to the site – we appreciate your support!)
You can see Scott's previous reviews here, and we also discuss and review A Portrait of Walt Disney World and others on one of our Up the Waterfall  weekly LIVE shows (we have quite a few book discussions there so check them out and subscribe for more!):