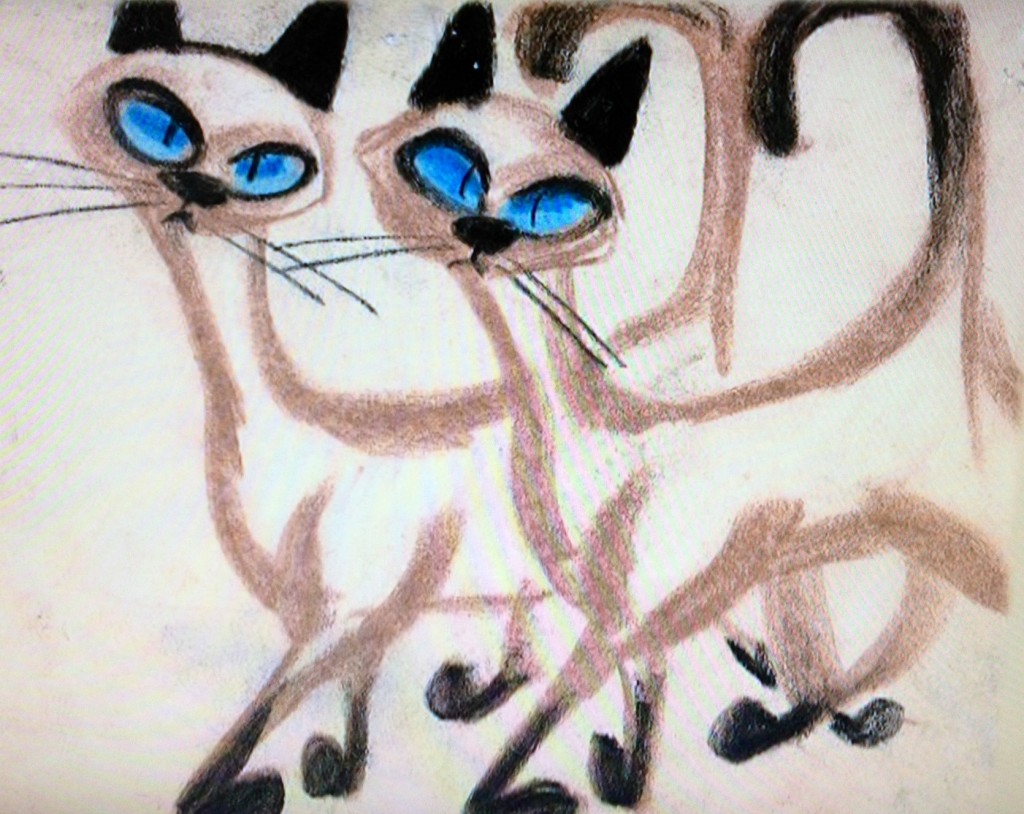 One winter day in late 1979, I was called out of my kindergarten classroom and to the office, where my father picked me up and took me to the car. When I got into the back seat, I noticed a basket with a blanket inside. Opening the blanket, I saw the tiniest two kittens. One was blueish grey with a dark tail and ears and the other was cream colored with a dark brown tail and ears. Both sets of eyes were blue. My mom told me they were Siamese cats (a blue point and a seal point), and I thought right then and there that they were the most beautiful cats in the world.
Despite attempts by my parents to go with more interesting names of Rhett and Scarlett, we ended up calling them Boy Kitty and Girl Kitty (we already had a Mr. Kitty) and they grew into gorgeous creatures. So when Lady and The Tramp was re-released in theatres in 1980 and featured Siamese cats, it became one of my favorite movies – even if those particular cats were very naughty. Boy Kitty lived a very long and happy life, staying with me until I was 22.
As an adult, I watched the film on video back when my first two children were little. Perhaps it was the turn-of-the-century time period, the Main Street, U.S.A. feel, or the snow falling on the peaceful lanes of Victorian homes that reminded me of my childhood in New England, – or maybe even remembering my sweet Siamese friends, but it reaffirmed its place in my heart. As Walt Disney knew, animals have a lifelong impact on children, which could be why this film, told from the perspective of man's best friend, is such a revered classic.
Now, years later, I love the classic story and how, even if it were humans in a live-action movie, the film would be just as compelling, romantic and sweet. I won't get into the actual movie too much, as it's a tale we all know and love, but this Blu-ray version is impeccably restored and probably clearer than when it first came out in 1955. The iconic scenes of Lady in the pink striped hatbox, Lady and Tramp sharing spaghetti and meatballs, the pawprints in the cement; they all makes me want to jump right into the screen and move in next door to Jim Dear and Darling.
While the "We Are Siamese" song, with the cats I loved so much, isn't exactly politically correct these days, it brings me back to 5 or 6 year-old me and how amazing I thought it was that a Disney movie was singing about MY cats. Just as I'm sure every child of a Springer Spaniel, Scotty dog, or even mutt, thought the film was about their pet. The fact that Diane Disney Miller introduces the film and lets us know if was one of her dad's favorites, makes it all the more special.
Blu-ray Bonus Features:
In the special feature, "Remembering Dad" Diane Disney Miller shares some wonderful stories of Walt, Disneyland history and the wonderfully detailed family apartment above the firehouse. Truly a treasure.
The Making of Si and Am feature is chock full of wonderful drawings of my favorite characters. The original theatrical trailers are fun to watch and remember a time when a new Disney picture was an event presided over by Walt himself. And then interesting to see how those trailers changed over the years.
There are some great sketches of deleted scenes from the beginning of the film, where Lady actually has two neighbor dogs, Homer and Boris competing for her attention. Boris moves in with an elaborate Russian-style dog house and is the aristocrat to Homer's "dog-next-door" persona. Boris makes a later appearance in the dog pound scene. I'm glad they decided to cut this scene, however, it seems a bit long and not in keeping with the character they decided to go with for Lady.
The next deleted scene is of Jim Dear pacing and imagining the future possibilities for his about-to-be-born son. It's cute, ending with Jim Dear passing out as he learns he is, indeed, father to a bouncing baby boy.
The final deleted scene is another long one where Tramp and Lady get stuck in a theatre watching a performing dog show. It's cute; something I could see the Disney of today turning into an animated short.
You'll also find some nice looks at the Disneyland television show, including "The Story of Dogs", released in color for the first time. Bottom line, for a fan of Disney history, or Walt Disney himself, this dvd+Blu-ray collection is a must-buy. It's chock full of wonderful history, nostalgia, and of course, Disney animation and story we all know and love.