Let's jump right into Day 4 of the ZannaLand Disney Gift Guide! Today we have some great gifts for the Disneyphile that has it all!
Disney DVD/Blu-rays
A couple of months ago, I shared an amazing deal on purchasing all three of these DVDs below – Waking Sleeping Beauty, The Boys, and Walt & El Grupo for only $49.99 WITH a free lithograph. This deal has actually been extended till the end of January, which makes it a perfect Christmas present, not to mention a fabulous savings! For the Disneyfile that has it all, these DVDs are Must-Haves! Click the pictures below to see more details!
Video Games
Just released yesterday is the much anticipated TRON: Evolution video game, just in time to get in the Grid before TRON: Legacy opens in theaters December 17, 2010. TRON: Evolution takes place between the original TRON film from 1982 and the 3D film TRON: Legacy.
TRON: Evolution has a story set around a series of seismic events within the Grid of TRON. Players control a security program, Anon, who must protect the digital world from Abraxas, a dangerous computer virus. Players will witness unique moments that are referenced or shown as the backstory of the thrilling "TRON: Legacy" story. The game features the iconic TRON vehicles – light cycles, light tanks and recognizers – and has high mobility combat using light discs. The multiplayer modes enable up to 10 players to take on each other online in a variety of maps with on-foot combat, light cycles and light tanks.
TRON: Evolution is available for the Xbox 360® video game and entertainment system from Microsoft, PlayStation®3 computer entertainment system, Games For Windows – LIVE, PSP® (PlayStation®Portable) system and the Nintendo DS™ family of hand-held systems. TRON: Evolution – Battle Grids is exclusive to the Wii™ console. Check them out below:
Books
Continuing in the Disney fan that has it all vein…how about some books that go in-depth to the life of Walt Disney and the stories behind Walt Disney World's history and theming? Check out these two wonderful books below, written by certified Disney experts and fans alike:
And for a fun and interesting interview of author and Disney legend Jim Korkis, head over to Disney Dispatch to learn more.

Other Disney ideas
For the Disney collector or Vinylmation fan, check out this Limited Edition Vinylmation Billiards set!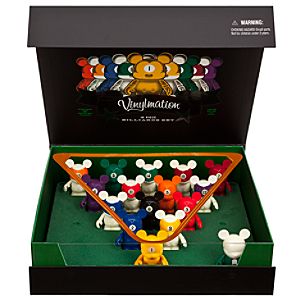 Or these adorable Vinylmation Condiment sets – sure to be a conversation starter! I'm totally telling Santa about these!