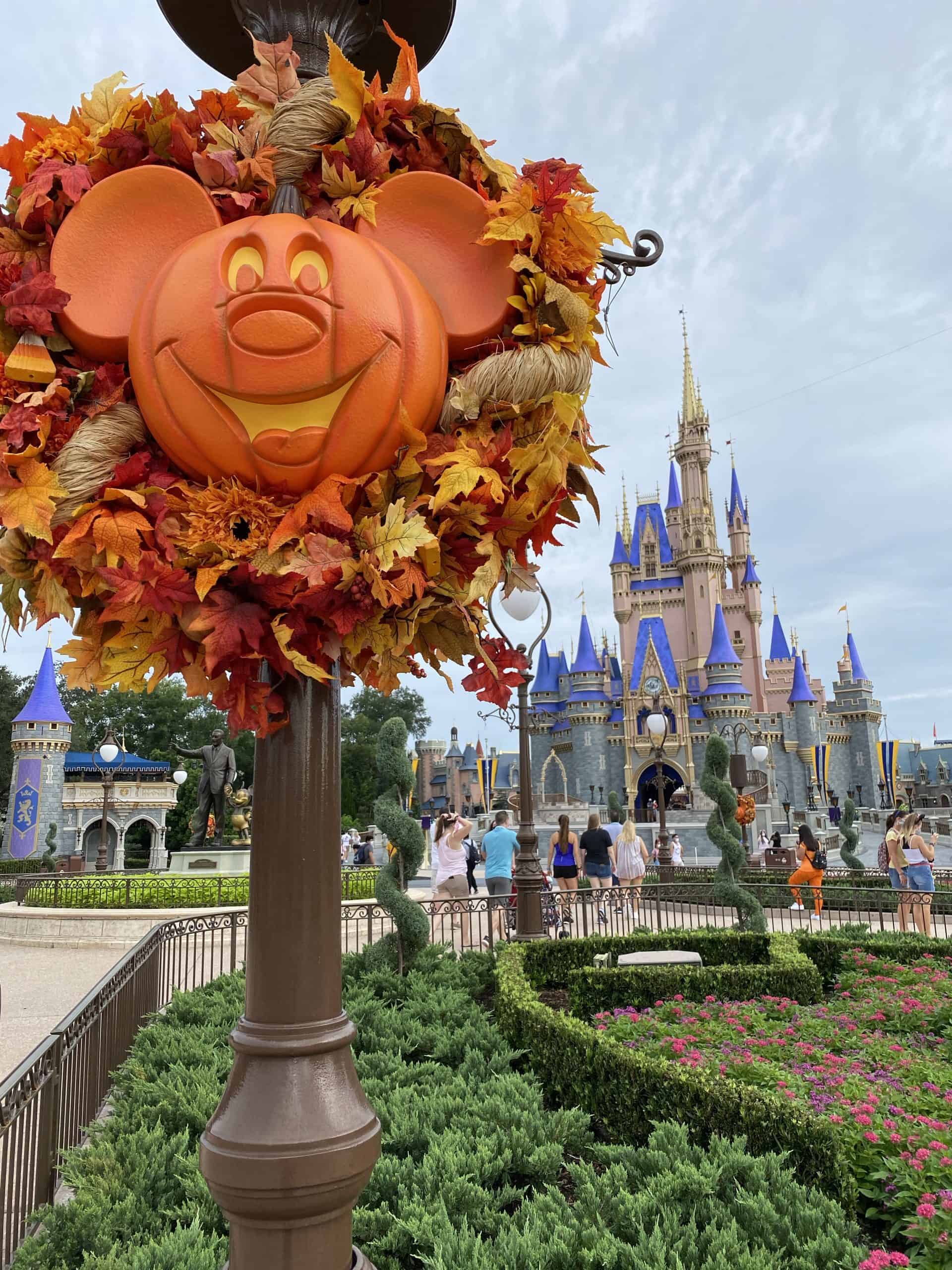 This year has been a challenging one for theme parks and the tourism industry in general. The normal Disney holiday offerings and events that we have grown accustomed to and can mark our calendars by have changed drastically. Normally we'd be over a month into Mickey's Not So Scary Halloween Parties by now, but as you know, Disney Halloween in 2020 is very different. For all of August, we wondered "When is Disney going to decorate for Halloween?!" However today was a banner day, as the Halloween decorations appeared on Main Street, U.S.A.! (This was after an announcement a few weeks back that they would be adding Disney Fall Decorations them on this day.)
What's Different For Disney Halloween This Year?
I decided to celebrate by making a Park Pass reservation, and Christian joined me and we roamed around and discovered all the Halloween fun! As you can see in the video, there aren't the huge pumpkins in the front of the park entrance or the train station, as there used to be. Also missing are the Main Street scarecrows in Town Square. I understand that this decision may be to discourage crowding and queuing up for photo ops, but I do hope they add the scarecrows at some point!
With the elimination of the parties, Disney has added most of the party-specific snacks to regular park hours. We seek out some of them and test them out in our video. The other addition to replace the party entertainment is character cavalcades. Characters have been coming out on trolleys, horses and parade floats during regular park hours.
Now that Disney Halloween is here, these characters are now in costume, and joined by favorite villains and other spooky favorites. There are no schedules for these cavalcades, and not all of them are every day, so if you visit, you may not see all of them. For us, we just did a quick trip, and just missed the Boo to You float with all the Fab 5 characters (but we did catch them on the train station!), and the Villains "Good to Be Bad" float. It will be fun to just happen upon these if you are in the park from now through the end of October!
This was our first visit back to the Magic Kingdom in over 6 months, so we also shared our thoughts on the new Cinderella Castle coloring as well. We wrap it up with some Halloween merchandise overviews in case there's anything you want to add to your list next time you visit!
Christian and I also checked in with the Sorcerer's of the Magic Kingdom* game, and find out if there will be a special Halloween or Christmas card this year! *We're going to have a new video soon with the updated gameplay for this fun game. It's been a while since we've played!
We hope you enjoy our silly vlog, I will admit it was a lot harder to do our silly banter in a mask, but hopefully I'll get used to it next time!
We'll have some other Halloween fun coming up here soon at Zannaland, so be sure you are following along everywhere so you don't miss a thing!
Watch all the Disney Halloween 2020 fun right here:
Zannaland and Up the Waterfall Community – Let's Connect!
FOLLOW THE ZANNALAND FAMILY ON SOCIAL MEDIA, WATCH OUR VIDEOS, VLOGS AND PODCAST TOO: 
Thanks for watching and reading, and joining in the fun!