Over the weekend, I saw a friend on instagram post a photo of a new Muppets Most Wanted-themed scavenger hunt taking place around Epcot's World Showcase. I grabbed the family and headed over to check it out, because if there's one thing I love, it's scavenger hunts, and the Muppets. Oh wait, that's two things. Actually, there are hundreds of Muppets…so…if there are hundreds of things I love, they're scavenger hunts and the Muppets! Anyway, I was excited to experience it in person.
We entered through the International Gateway to World Showcase, so I asked at the Agent P. kiosk where to find this Muppet adventure. We were told to head over almost to Mexico, so we did, with some pauses along the way for bunny-checks in Canada's Victoria Gardens area (we couldn't find any, so decided they were all inside the tiny cottage) , drooling over the Cronut counter (we were stuffed from Sanaa), and saying hello to Duffy. It's quite easy to get happily distracted in World Showcase, especially with a 5 year-old in tow. Then we came upon a sign proclaiming it was the MBI – Muppet Bureau of Investigation, and we knew we were in the right place.
I decided to take photos to chronicle our entire Muppet mission – If you don't want to read below, let me sum this attraction up for you in a few bullet points: 
Easy to sign up for and get started (no waiting for a return time)
Two options for missions so you can choose a side of the World Showcase to cover (same end result)
Only takes about 20 minutes per side (3 country visits per side both ending in America)
Keeps the attention-span of small ones (pre-school through elementary would be perfect)
Perfect amount of interaction with a sense of accomplishment at the end
Muppets!
If you want to be surprised by the clues and the results of our quests, you may want to end your reading now…you've been warned! And now, There be spoilers (and evil frogs) ahead!
.
.
.
.
.
.
Okay, now the fun stuff. I LOVED this experience. Unlike the Agent P. adventures, there was not TOO much to do – it is the perfect amount of walking, activity and attention-span capturing for little ones and above. For older kids, sure, they may think it's kind of easy, but it definitely looks like this temporary quest was some sort of testing to see how it goes. I think it is a great success and hope for more in the future. It is definitely less intrusive as far as beeping, talking cell phones in Agent P's adventure go. It's also fun that you have to interact with cast members for this adventure (not sure they appreciate that part, but it's fun to have to go out of your way to speak to international cast members that you may not have interacted with otherwise).
We started in Germany. You know up front when signing up that your choices are Germany, Italy and America, or the United Kingdom, France, and America. I love that you have the option and that it's short enough that your whole day isn't taken over by this adventure.
You look at your MBI booklet and it tells you to look for the world's oldest and most expensive cuckoo clock. So we headed into the cuckoo clock store and looked around. Soon we discovered the subtle but fun clue. It definitely doesn't overpower the store taking away from the regular experience of the German pavilion. Once we saw it was a note from Constantine, we opted to read it in his accent (which we have taken to doing around the house anyway, much to the dismay of my 13 year-old daughter). I'm sure the German cast member standing next to me appreciated my excellent Constantine impression.
We got our sticker and it told us to head to Italy and that we were getting there by train 301. This was important. Our Italy page told us to look for a Gonzo mask in Il Bel Cristalo store. Again, this was subtly done and did not take away from the rest of the store. Italy also had some fun Muppet details. I'm now wondering if we missed any in Germany! There is also now a train schedule posted right next to the Muppet Topiary display between Germany and Italy, showing another reminder of train 301, which you'll need in Italy.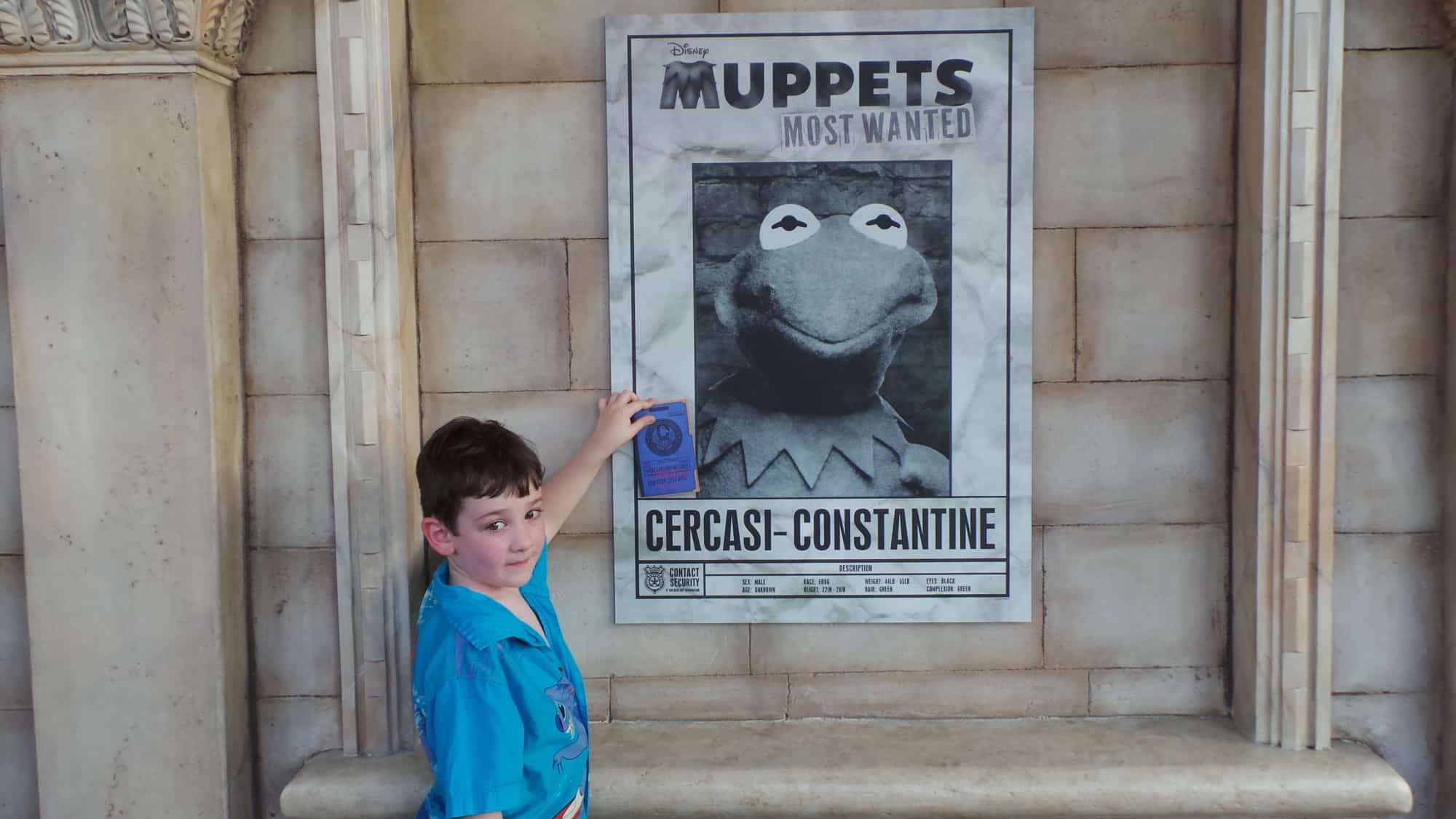 Now our next clue took us to the American pavilion and the end of our mission, so I'm going to show the other two countries of the U.K. and France before ending in America. (We actually worked backwards from France just to see if we could figure out the clues and get the stickers out of order. Thanks to a helpful cast member in France, we were able to do just that.) But I'll put the details in the proper order below.
So we went back to France (not really we started there, shhh) to the perfume shop. I spotted the diamond, cleverly shaped like an actual carrot, a very Muppet-like joke. We are then prompted to enter our code again, this time asking how many carats the diamond is.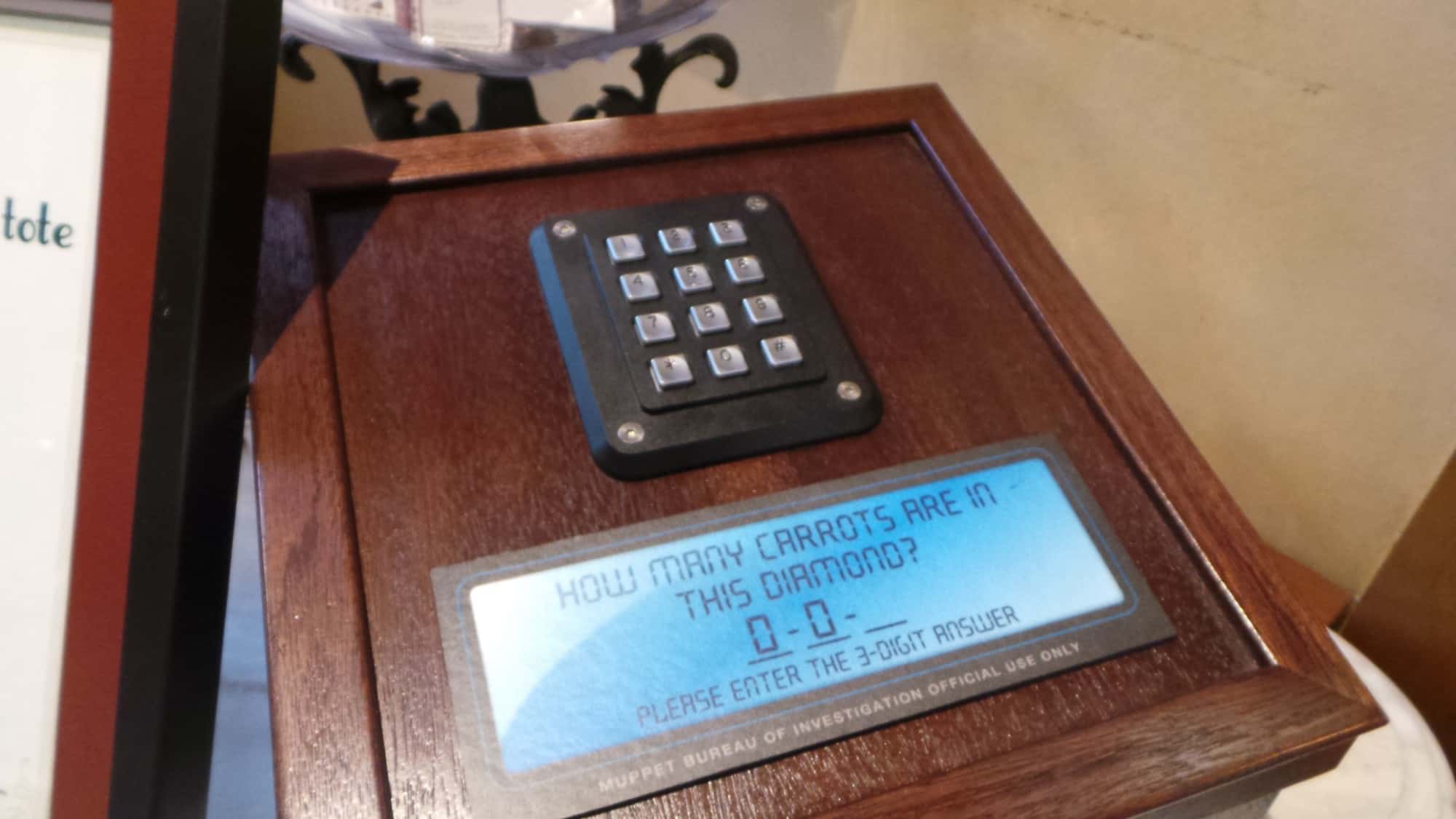 The cast member in France then told us we had to go to a very scary place – America! We didn't head back since we already experienced the conclusion of the mission. But here's how it ends:
The booklet has visual clues like Lady Liberty and hot dogs (Liberty Inn!) but the map shows the check-in point is actually to the right of the American Adventure entrance. There is a kiosk there, where you receive a final sticker, a certificate of completion, making you an official MBI agent, and you are allowed to go behind some landscaping to see…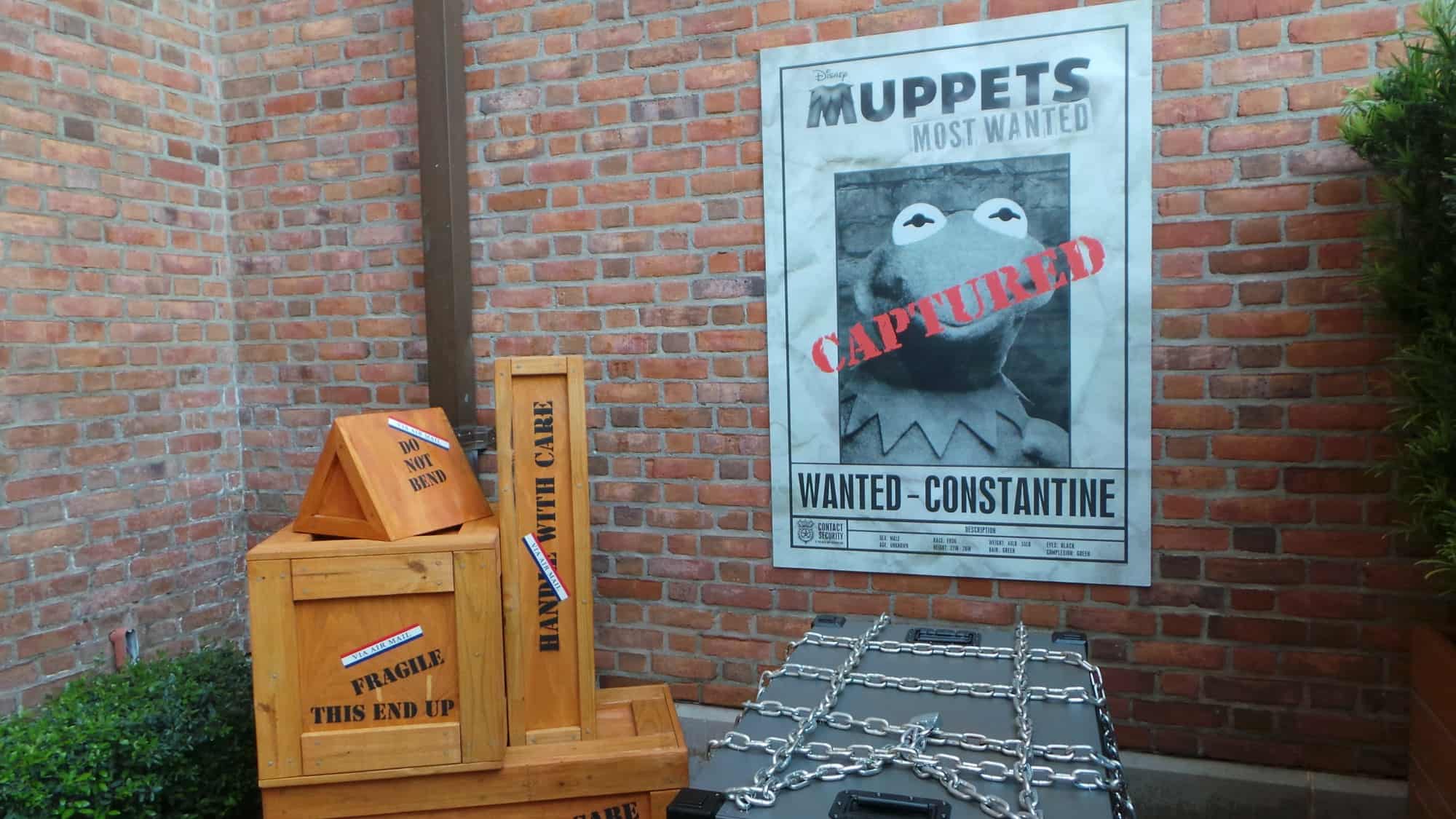 And that's that! We had a wonderful time, and even though there weren't actual Muppets at every turn, it was, I think, perfectly themed and really well done. It will be interesting to see if Gio asks to do the missions again or if it's a 'one and done' kind of experience for him. The MBI Muppet scavenger hunt adventure will be active during the Epcot International Flower and Garden Festival, through May 18. I'll update as I get more information. I kept some of the visuals a surprise so you can experience the stickers, the booklet itself, and other details yourself.
I'd love to hear if you've experienced this yourself and what you thought. What was your favorite part?