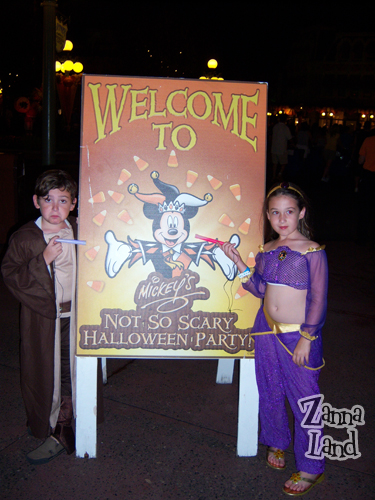 I announced earlier this week on Twitter that the family is heading to Mickey's Not So Scary Halloween Party. Personally *I* am super excited about it because it's one of my favorite events at Disney World. The Boo To You parade is worth the price of admission alone, I feel. The parade starts with the Headless Horseman fiercely galloping down from Frontierland to Main Street on his horse (a horse who's only job is this parade!). My next favorite part of the parade are the gravediggers from Haunted Mansion. They will definitely keep you alert as they stomp and drag their shovels along the pavement – causing sparks to fly!
Then of course there is the trick-or-treating throughout the park. Various spots are set up in the different lands where kids and adults can collect candy treats together (there are non-candy alternatives available at each location as well). My favorite section is the walkway from Toontown to Tomorrowland, where characters from Alice in Wonderland are set up. During our first time at the party, they actually had an entire tea cup from the Mad Tea Cups ride FILLED with candy. The spooky-themed HalloWishes fireworks display is a spectacular end to the night, it really can't be missed.
We didn't make it last year, because I was 9 months pregnant and had our 3rd child on October 28, 2008. For that reason I was even more excited to attend this year. My original plan was for all of us to be different characters from Alice in Wonderland. A few years ago we saw an entire family dressed up as the Malfoys from the Harry Potter movies and I loved it. I don't think that's going to work out, time just snuck up on us, but maybe next year! My daughter has decided to be Coraline
– her haircut makes it a perfect choice. I know it's not a Disney character, but the director also did The Nightmare Before Christmas
, and it's unique enough that she probably won't see 20 of herself there. I haven't figured out the baby yet, but I will find something cute I'm sure. My problem is my ten year-old.
Last year with his longer hair, he was a PERFECT fit for playing Heath Ledger's Joker from Batman. Once we got him all dressed and made up, he was less than thrilled about actually going out. So it's no surprise that this year, while he's excited to go to the party at the Magic Kingdom, he does NOT want to dress up. I decided to ask Twitter for some ideas on how to help, and thought I'd ask here as well. Of course I'm not going to *force* him to dress-up, but I'd like to win the challenge of finding something that actually excites him enough to want to wear. My friend Kristen on Twitter suggested an "I'm too cool to dress up" t-shirt, but I wonder if he thinks he's too cool to wear an "I'm too cool" shirt?! Help me, friends of ZannaLand, you're my only hope! 😉