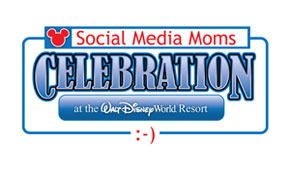 As a Florida resident living within 10 minutes of the magic, I will admit to taking a day trip or two with the kids while my husband was at work, just because we could. Some of my favorite memories are of the times I was able to say "Guess what? We're going to Magic Kingdom today!". I'll also admit that once we were about to walk through the gates, I was a bit worried about whether I'd actually be able to pull it off by myself or not. With the upcoming third annual Disney Social Media Moms Celebration in April, where bloggers AND their families are invited for an incredible 3 days of social media conferences, entertainment, and dining as only Disney can provide, I thought I'd share some tips and ideas for the non-blogging parents that might want to venture out in the parks with the kids.
A good thing to keep in mind for the parent planning to "go it alone" is that sometimes the hardest part of being by yourself with the kids is just the getting TO the fun parts. It's a lot more difficult to be the only one in charge of parking the stroller, getting kids in and out of a stroller, and keeping them entertained while waiting for an attraction, show, or their favorite character. You may not be able to stake out that perfect spot for the parade 30 minutes before it starts and keep the kids happy. As long as you are aware of that going in and have a plan to handle it, you should be fine.
If your children aren't stroller-aged and you are perhaps concerned about getting separated, there are things like Lost & Found Temporary Tattoos where you can write your cell phone number on, and I've even known parents to write their number in Sharpie on a child's arm. Of course make sure you let them know a location to meet if you do get separated and explain that all cast members will be wearing name tags. When I was a cast member we were all hyper-vigilant about lost children and the few times I encountered one they were reunited almost instantly. There are few places I feel safer than Walt Disney World.
For those who may never have been to the Walt Disney World Resort, let me quickly sum up all there is to do. There are 4 theme parks, each chock full of attractions (rides), shows and character greetings as well as other special experiences like fireworks, parades and even just happenings on the streets.
The Magic Kingdom – this is what many people think when they think "Disney". All of the classic rides, attractions and of course Cinderella Castle are here. What you won't find is the park teeming with Characters ready to pounce on children that may not be ready for such an experience. You can find loads of your favorite characters here, but you go to them – or you can just watch them interact from afar. You'll also find rides for all ages here, but the ones I'll list below are geared more toward the pre-school & toddler set.
Now you are pretty much covered at Magic Kingdom because you walk in and the kids are already amazed by the ride into the park; either by Monorail or Ferry boat. If you decide you might as well see some attractions while you're here,  here are my picks for keeping the kids in check with only one parent:
It's a Small World – never fails to deliver awe-inspired faces from little ones. I can't tell you how many pictures I have of all three of my children looking up, mouth open, eyes wide – just taking it all in. Plus it's a boat that you can all most likely fit into vs. some of the rides where parents with more than 2 kids may have to separate into two ride vehicles.
Sorcerers of the Magic Kingdom – this all-new interactive card game can keep your big or little kids entertained for hours. You'll travel around the lands of the Magic Kingdom defeating villains with spell cards and earning your way toward a Master Sorcerer ranking.
Mickey's PhilharMagic – this is one of the most kid-friendly 3-D movies Walt Disney World has to offer. The sights and sounds come to life with scents and other surprises as Donald searches for Mickey's famous sorcerer hat. Directly across from Philharmagic is another fun favorite, Cinderella's Golden Carrousel. The line is never really too long here and it's pretty easy for one parent to stand between a couple of royal riders and still get some great pictures in the process.
Monsters, Inc. Laugh Floor – this relatively new attraction is always a riot for the kids. Corny jokes abound as well as some fun audience interaction. Guests can text their favorite jokes in as they wait in the pre-show area and their joke may appear during the show. I had one of mine picked once and my kids thought I was famous!
Epcot – Some of you may remember this as "EPCOT Center" in the 1980s. Epcot has kept up with the times and still offers a Disney twist on learning and the educational side of theme park rides and attractions. In addition, Epcot features the World Showcase with 11 countries offering unique peeks into their culture and dining.
 Turtle Talk with Crush – this attraction is found within the Seas with Nemo and Friends pavilion at Epcot. After enjoying the adorable ride with Nemo and Friends through the 5.7million gallon salt water tanks full of tropical sea creatures, head over to Turtle Talk in the Sea Base area. This attraction is great for kids because they get to sit up front – no adults to try and see over! They get a front row seat as the adults sit behind them on benches. I've not met a child that wasn't amazed that Crush was talking right to THEM, asking and answering questions.
Living With the Land – this boat ride through Epcot's amazing experimental gardens and growing methods keeps kids on the edge of their seat as they spot the Mickey-shaped pumpkins and see tomato roots taller than they are. If your little ones are not quite at the height requirement for Soarin' next door, this is a fun alternative in the same pavilion. Something to keep in mind, strollers are not allowed inside The Land pavilion so you will need to be able to take the kids out.
Kidcot Fun Stops – since you're in Epcot, head over to the World Showcase for kids activities designed to help them learn a little something about each country they visit and take home their own souvenir mask that they helped decorate. Check out the park map or just ask a cast member where the Kid-cot activity is in each country.
Disney's Hollywood Studios – (formerly known as the Disney MGM Studios) Here you will find a taste of the Hollywood that never was, and always will be. While the park features some fun movie-themed rides and attractions, you will also find the thrill rides Tower of Terror and Rock 'n' Roller Coaster as well as the popular Disney Junior show.
Disney Junior–Live on Stage! – at Hollywood Studios, this show is sure to get your little ones feet moving to the music of their favorite Playhouse Disney characters come to life. Their favorites from Mickey Mouse Clubhouse, Handy Manny, Little Einsteins, and of course, Jake and the Never Land Pirates will be on hand for the fun.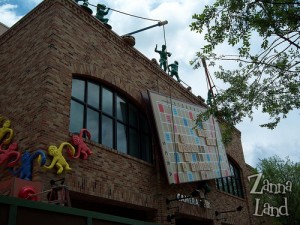 Toy Story Midway Mania – this amazing addition to the Hollywood Studios is great fun for slightly older kids. Families can take part in a friendly competition in midway-style games that come to life with 3-D glasses and characters from the Toy Story movies. Things to note are that it is a VERY popular attraction, so unless you arrive early or get a Fast Pass you may have quite a long wait. The good part about this is the queue is chock full of toys and games that are sure to keep kids busy with a game of "I-Spy". The other reason is that the way the ride vehicles are set up, you sit two in front and two in back, so if you have more than 2 little people and are alone, you might have to separate a bit. If you have older kids, it should be fine. Definitely be sure to check this out during your visit, just keep the popularity and set-up in mind.
Muppet*Vision 3-D – this hysterical 3-D movie always makes my kids laugh. All their favorite Muppet characters come to live and there are even some surprises which turn it into a 4-D experience.
Disney's Animal Kingdom – This is a park of discovery. Not only can you ride a safari or trek through jungles to view animals, you can ride a roller coaster through Mt. Everest and celebrate with the Lion King and Nemo. This is one of my favorite parks and I think sorely underrated. Even just walking around there are so many things to observe and enjoy. I could spend a week in Pizzafari just looking at the decor. There are endless learning opportunities in Animal Kingdom.
Festival of the Lion King –  Oh my goodness I could talk for days about this show. It is so fun, so interactive, so uplifting and enjoyable. Little ones are able to dance around in the middle of the show, which brought me to tears even before I had kids, so now I'm a mess when I see it. The show really is amazing and I urge you not to miss it!
Affection Station at Rafiki's Planet Watch  – take the Wilderness Train to Rafiki's Planet watch to experience the park's petting zoo as well as see some unique scenery on the way to and from the stop. It is a bit of a trek from the train station to Rafiki's Planet Watch, but worth it for the experiences that await.
Finding Nemo The Musical – I have not yet seen this, but have heard nothing but praises for how great the show is. I've heard the music and performances are just amazing. It's definitely on my list of things to see!

If you'd rather save the major attraction-riding for when the whole family's together, perhaps some of Walt Disney World's other activities would be fun to try. Right at the Polynesian Resort, where guests of the Disney Social Media Moms Celebration will be staying, guests can rent boats of many different sizes and zip around Seven Seas Lagoon enjoying the scenery.
Another fun idea is one of the two miniature golf locations Disney World offers. Fantasia Gardens, near the Walt Disney World Swan and Dolphin resorts is themed, as the name indicates, to the Disney animation masterpiece Fantasia. The other course is at the entrance to Disney's Blizzard Beach water park but entrance to the park is not needed, just to the golf course. Winter Summerland takes the Blizzard Beach theme of winter-in-the-middle-of-Florida to a whole new level with two holiday-themed courses. A Winter Course with a snow theme and a Summer Course with a sand theme. Our family had a fabulous time when we went.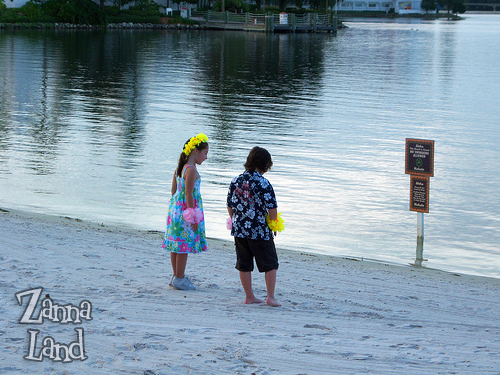 Whatever you decide to do keep in mind that sometimes what you don't do can make the trip. Don't worry about trying to fit in every attraction or show. Sometimes the best Disney memories consist of hanging out in the resort, enjoying the pool and Florida sun (which hopefully will have returned by February 10th!) If you are relaxed, your children will be relaxed too.
Take the planning time before your trip to explore the Disney World site, check out the attractions you feel are "must-do" for your family. It could be the favorites that you need to line up early or get a Fast Pass for, or maybe the wonderful shows and character greetings Disney World has to offer. What works for you is what matters. The purpose of this post was just to highlight some of the attractions I feel would be easiest to maneuver with only one parent – hopefully this list will serve as a stepping-off point as you discover the rest of the World.
Check out my other entry for the Disney Social Media Moms – Must-Do Disney Firsts. See you in April!
Disclosure: I am a former member of the Walt Disney World Moms Panel, but the post written here comes from my family's personal experiences and opinions over the years. I am not a Disney employee and the opinions expressed here are my own, not those of the Walt Disney Company. I am attending the Disney Social Media Moms Celebration by my own means, and not as a Walt Disney World Moms Panelist. (I do, however, encourage you to visit the Panel for any Walt Disney World vacation planning questions. The moms are a wealth of Walt Disney World knowledge!)