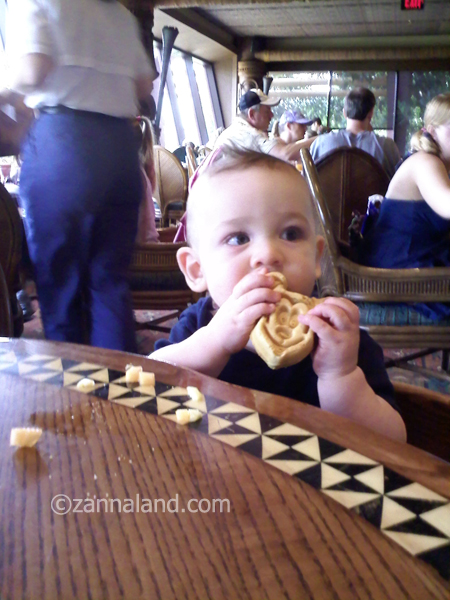 It's no secret that Walt Disney World and Disneyland both have an established reputation for excellent dining options. Breakfast is no exception. One of the best ways to meet Disney characters and get photos is to enjoy one of the many Character Breakfast dining experiences available throughout the parks and resorts. Many of the restaurants feature special items only available at their location. As a result many families pick their favorites based on those options. One staple is available at most Disney breakfast buffets no matter what the theme: the Mickey Waffle. This secret recipe is able to be made at home any time you want!
These Mickey shaped waffles are small in size, but big in taste. I like to save them for the end of my breakfast, almost like having a "breakfast dessert" (that's allowed on vacation, right?). Once home, however, you might find yourself pining away for that fluffy golden breakfast treat. Of course the best part of making breakfast at home is that you can have it any time of day or night! Our family loves breakfast-for-dinner nights. How can you make a Disney Mickey Waffles breakfast at home, you ask? Simple!
First, invest in a Mickey Waffle Maker
. The Mickey waffle maker we have was given to us by a friend and I guess is not available anymore (apparently they were recalled for possible electrical shock – oops!) In researching and updating this post in 2020, I found a few to share that aren't recalled!
The first one below is a larger Mickey waffle like we had, which you find at some restaurants when a Mickey waffle is ordered on its own. The second with Mickey's face is a little pricier, but it makes 3 mini waffles like you get in so many of the breakfast buffets around Disney property. I love that you flip it over. I may end up getting that one myself! The third one will probably be a favorite of Disney history buffs like myself, as it turns the Mickey waffles into the original Mickey logo for Walt Disney World. Love that too!

If none of those strike your fancy, there are so many more now than when I first made this post. Olaf, Star Wars, Marvel waffle makers, you name it, there's a waffle maker for it!
Even if you don't have a Mickey or Disney waffle maker, you can make regular waffles fun by adding a Mickey design in syrup, or make your own hidden mickey out of 3 round waffles – the possibilities are endless.
Next, you need the Official Mickey Waffles recipe:
Mickey Waffles
4 eggs, separated
1 cup milk
2 tsp baking powder
1/2 tsp salt (optional)
2 cups flour
1/4 cup butter or margarine, melted but cooled
1 tbsp sugar
1 tsp vanilla extract
Beat egg yolks and sugar in a bowl until light. Add melted butter (cooling makes sure you don't cook the egg yolks as you mix it), milk and vanilla extract. Sift the flour, baking powder & salt into the egg mixture beat well. Beat egg whites until stiff and gently fold into batter. Bake and serve. 
[edit: right after I originally posted this, I discovered the wonderful DisneyFoodBlog's article on Mickey Waffles, which notes a recommended 'secret ingredient' for the flour used in the batter that you may want to check out and try: Carbon's Golden Malted Flour]
[edit 2: if you are looking to make a vegan of gluten free version of the Mickey waffles you know and love, just use the egg substitute of your choice (I prefer apple sauce for baking like this), use the plant-based milk of your choice, and plant-based spread of your choice in place of butter – also gluten free flour if you need to nix the gluten. I don't want to post a specific recipe for it as I know everyone's tastes vary with the substitutions needed for special dietary needs. I've experimented with a few different egg substitutes and had various levels of success, so hopefully you can find one that works for you!]
Voila! Disney breakfast at home with the official Mickey Waffles recipe! Tipping your server is optional, please thank the chef. Enjoy the happy smiles and full tummies that follow! Let me know if the comments below if you've tried the recipe above, or your own new version!
Zannaland and Up the Waterfall Community – Let's Connect!
FOLLOW THE ZANNALAND FAMILY ON SOCIAL MEDIA, WATCH OUR VIDEOS, VLOGS AND PODCAST TOO: 
We thank you for your support and for sharing the love!