Applications are now closed – Final round phone interviews took place November 3,4, and 5th and the panel should be announced on November 10th. I am unsure of the official count on Round 3, but somewhere between 25-30 is what it has been in the past. On a personal note, I made it to the final round!! I am now anxiously awaiting the call telling me if I'm on the panel or not. Any other Round 3 applicants feel free to comment and check in! Thank you ALL for your support of my dream from day one!
While you wait, you are welcome to read my Cinderella story part1 and part 2 in the Moms Panel application process. It's quite a roller coaster of emotion!
You may also
Visit Walt Disney World Moms Panel for answers to any vacation planning questions!
---
My original entry from 9/1/09 follows, with updates at the end:
If you are a regular reader here at Zannaland, you are no doubt familiar with the fact that I hold just a *teeny* obsession with wanting to be on the Disney Moms Panel. Just a slight one. I am, however, not alone in that obsession. For those unaware, the Disney Moms Panel is an online question and answer forum at DisneyWorld.com where anyone with access to a computer can ask the Disney Moms Panel a question regarding a Disney World vacation, resort, restaurant, special event – pretty much any and everything under the sun – and get a factual answer or an unbiased opinion.
The panel is not employed by Disney, therefore if you ask them which restaurant they prefer, you aren't going to get a pat answer, you are going to get a real, live, personal opinion. In addition, the panel offers tips and hints to make your time at Disney World as special as you hope it will be.
I have quite a bit of company in my quest to join this prestigious group, now entering its third year. There are countless others out there just like me, on message boards, twitter, facebook and blogs alike – all making a wish upon a star for this Disney Dream Job (that's not a job at all, it's a volunteer position). That is but one piece of evidence of the love, devotion and commitment so many fans have for Disney. It is, to borrow a Disney tag line – Where Magic Lives, after all.
On September 10 – 20, 2009 thousands of Disney Moms Panel hopefuls clicked onto the application page. Once 9am Eastern time hit, the Disney Moms Panel application page changed to a submission form with questions for the first round of the process. For those who make the second round cut, there are more essay questions to answer to show your ability to help out with Disney vacations, followed by a phone interview for the final round. The current Disney Moms (and Dad) have shared their thoughts on the oft-asked question, "Why were you chosen?" which might give you some help in crafting your answers, or at the very least increase your excitement about the process.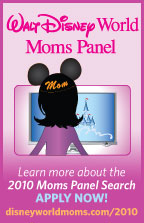 With a pool of over 20,000 people trying for 12 spots in last years round, one can only imagine how many more will try to compete this year, with the increased presence of the Disney Moms Panel members online. The 20,000 applications was the Disney-imposed cut-off point. One thing is certain: You do NOT need to be a mom, or even a dad to apply.
I've mentioned before and will say again, if I do not make the cut this round, I will keep trying for as long as I can type. It is something I know I want to achieve and be a part of and I will not give up that easily. And if I don't make it, I still have the wonderful Mickey Moms Club to be a part of, which is a gift in itself. I want to thank my husband and children (and twitter and facebook followers and off-line friends as well) for bearing with me and my obsession this past year. I promise I'll mellow out after September 10th. Maybe. Probably not. Ok, who am I kidding? I will always be Disney-obsessed! [Edit, nope – no mellowing out yet!! ;)]
To all those applying – BEST of luck, and I mean that…I've met so many wonderful people recently and just the thought of someone I 'know' being on the panel next year is exciting in itself. To the current, past and any 'retiring' moms & dads, thank you for all your hard work and pixie dust to all of us with questions and all those that follow your lives on twitter and on your blogs – it's been a pleasure getting to know you and I am confident you will continue to share your amazing knowledge, tips, and ideas with all of us.
---
EDIT: [updated 9/29/09] Well, as of 10:25am September 10, 2010 I hit submit on my application. Now, the waiting begins! I immediately checked twitter and got worried that so many had already submitted their applications. I have been talking about it so much that it seemed like surely 20,000 applications could be submitted in an hour and a half, right? I hope we can find out the numbers later, I'd love to know. Submissions are still open as of right now tho (noon) so hopefully they'll last at least a couple of days so everyone that wants to has a chance.
What we now know is that they are looking for 10 panelists this year. There are 3 questions which challenge your creativity and skill at fitting all you want to say in 100 words or less. I know personally I had about 4 answers pre-written; one about myself, one about my family, one about why I should get picked and one about my favorite tip. Well, Disney, keeping us on our toes combined a couple of those so I had to do some creative re-writes to get it all in. But I did it. I have to say I am happy with my answers, but looking around on twitter alone, I know I have some STIFF competition. There are some amazing people out there, all of whom probably want this just as much as I do. I know it will be hard if I don't make the first, second or final cuts, but I've said all along that I will continue here doing what I love, sharing my Disney passion with everyone. I will definitely do that (and keep applying until I can't type). 😉
As of Tuesday, September 15, applications are still being accepted. I have heard personally from so many great applicants this year, I cannot begin to imagine the difficult process of narrowing down the candidates! The great thing is that I've heard from moms, dads, non-moms and non-dads…really an excellent representation of the far-reaching demographic of disney fans and experts!
Many people have asked me questions about the process (which I admit I am no expert on, but I always try to find the official answers when I can!) so I thought I'd share some of those here:
1. Does applying for the Disney Moms Panel automatically give me membership to the Mickey Moms Panel?

Yes. All applicants become members when they apply – however, you will not receive notice of that membership until the first round ends. You will then be emailed to the address attached to your submission with details for logging in.
2. When does round 1 end? I'm going crazy with anticipation!! (see, I'm not alone! 😉 )

Going by last year's dates – applications started on 9/8/08 and those that made it to round 2 were notified around 10/7/08. I received an email about Mickey Moms Club on 10/20/08. So it should be around the first week of October before we know who has moved on to round 2. [See top of entry for updates on latest dates and rounds-currently Round 2 has ended and we are awaiting results of who made it to Round 3.]
3. What about round 2 and the final announcement?

Round 2 announcements were made on October 13, 2009. Round 3 announcements should be made on October 27th or sometime during that week. Phone interviews are scheduled for the week of November 2 so we are assuming final winners will be announced the following week – November 9th. The training this year takes place December 4-8, 2009.
4. Does Disney pay for you to go to Disney World in December and get trained?

YES! Disney pays for your airfare to arrive in Orlando and once there everything is completely taken care of by Disney. Did we really expect any less magic?
5. I think I messed up my application/I didn't receive an email confirmation – How do I know Disney got it??

When you hit that 'submit' button on your application page, you should have been brought to a confirmation page that said "Thank you for applying". Shortly after that, you should have received an email to the address you registered with, explaining that your application was received and Disney was sorry that they could not contact those that did not make it to the next round. If have not received that email or are unsure if your submission worked, go back to the application page and if logging in brings you to a "you've already applied for this round" message, rest assured Disney got your application. Sometimes emails just get lost in cyberspace, but the website confirmation serves as your proof of submission.
6. How many/which panelists are staying on next year?
According to a current Disney Moms Panelist's recent comment on a message board, the current panelists are also waiting to find out who stays on for next year. We know they are looking for 10 new moms, but at this point it has not been announced which current panelists will be staying on.
I'll update this post again later when I hear (either personally or through other peoples' updates) that the first round is over. Thank you all for visiting – feel free to share your thoughts and experiences with the process if you've applied this or any other round! If you have any questions, ask away! I'll do my best to get an official answer. Thank you to all the official Disney Moms Panel moms & dads for their help answering questions!