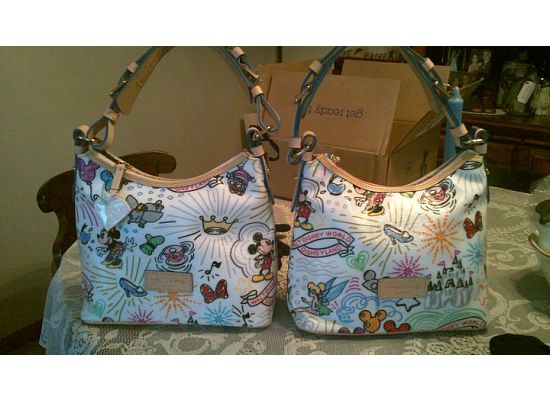 It's hard to believe that the Disney + Dooney & Bourke collaboration has been going on for TEN YEARS now. I guess it's not too hard for me, because I started Zannaland.com right before the first purse came out – the original Disney Sketch Design Bag. What a time. I remember driving up from where I lived outside of Tampa at the time, just to see this new bag and yes, buy one myself. I then began breaking news here on Zannaland whenever a new purse would be spotted, and for the various events and trunk sales that would happen at Disney Springs.
It soon became too much for me to keep up with the endless designs and new releases (as well as the Disney Parks Blog starting up, so all of the "scoops" and news was posted there first. In any event, I kept my Disney Dooney page up, in hopes that some day I would be able to properly update it with all the latest releases. However since about 6 years worth of designs have come out, I'm not sure that'll ever be possible on my schedule. Additionally, there are so many places and personal shopping services to get these bags (along with facebook groups and eBay) that it became kind of silly for me to compete with that. The bags do hold a special place in my heart though, as they represent a "golden age of Disney blogging" haha. Simpler times. I still have a few in my own collection.
In any event, read on for details on a very special 10th anniversary event of the Disney Dooney & Bourke partnership – maybe I'll be there myself for old times sake:
Disney Dooney & Bourke 10th Anniversary event at Disney Springs
Commemorate the 10th anniversary of the partnership between Disney and Dooney & Bourke with new merchandise and more!

In celebration of this momentous occasion, the "Disney Sketch" and "Mickey Balloons" original prints will be re-released and will now be available in great new color combinations. Plus, you'll find that some of your favorite silhouettes have been released from the vault.

Bring home a dash of extra magic by receiving a select complimentary Dooney & Bourke small zip pouch with the purchase of any Dooney & Bourke merchandise, while supplies last*.

You'll also have the opportunity to meet Ian Ray, Creative Director for Dooney & Bourke! He will be available for photos and to sign your newest Dooney & Bourke bag throughout the event.

When
October 11, 2019
9:00 AM to 11:00 AM

Where
Ever After Jewelry Co. & Accessories – Disney Springs

About Ian Ray
Ian lived and worked in 5 countries on 3 continents, where he specialized in material management and product development, before eventually settling in the United States in the late 1990's. Ian's current responsibilities include design and management of co-branded partnerships for Dooney & Bourke. He lives and works in Norwalk, Connecticut and loves sailing, triathlons and travel.

Event Details
Event dates, appearances and information are subject to change without notice and not guaranteed. Merchandise available while supplies last.