You may remember my review of my last Tables in Wonderland experience at The Wave in Disney's Contemporary Resort. It was so spectacular, I had to take my husband to the next event. Lucky for us both, it happened to be at Raglan Road Pub at Downtown Disney at  $115 per person, which included the entire meal and wine service as well as a signed cookbook from Chef Kevin Dundon, who would also be on hand cooking. Just looking at the menu got both of us excited since we just love Raglan Road in general. Let me recap the evening for you  – with pictures of course!
I was curious as to how we'd be seated for the night, since I knew Raglan Road did not have a closed-off area and the event was for 63 people. For those who've not yet been, throughout the restaurant you will find antique furnishings, grand fixtures, marble adornments, leaded glass, and ornate detailing.  The entire pub was built in Ireland then shipped to Orlando. As we arrived, the Irish band was just taking the stage.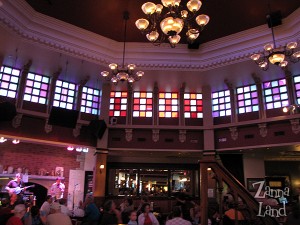 We were taken to the Raglan Room to the left of the stage and bar. This oak-paneled room was built using original woods from an old Georgian mansion in Dublin. It was nicely intimate while still enjoying the ambiance of the rest of the venue.When we were seated, we found some nice items waiting for us.
[Read more…] about Take the Raglan Road to Wonderland – Celebrity Chef Dining Experience