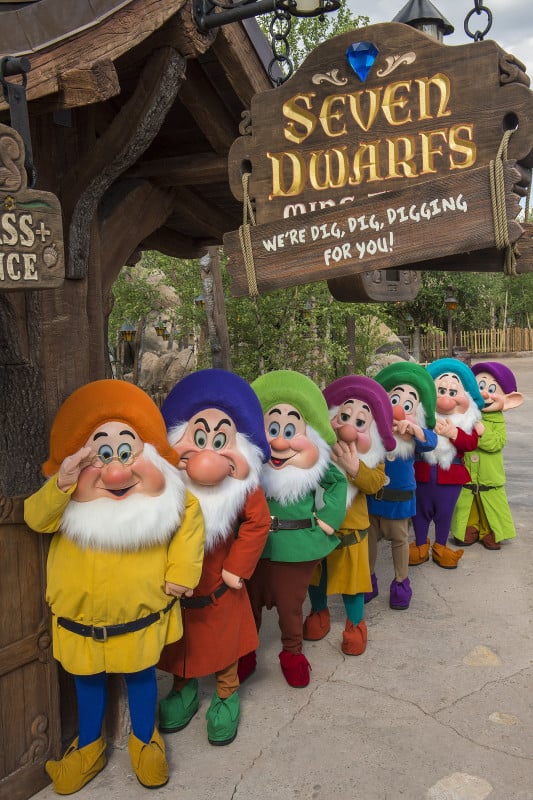 A little over a week ago, I was treated to a sneak peek at the newest attraction in New Fantasyland, the Seven Dwarfs Mine Train. I wanted to take some time to really put my feelings about this new gem into words, and share my thoughts with you. This much anticipated finishing touch on this new land was full of a contradictory mix of secrecy and hype for the last year or so. The Disney Parks Blog would tease us with Imagineer videos, ride vehicles and tiny tastes of what to expect with this next generation of hybrid dark ride and thrill ride, while keeping certain aspects behind walls and under wraps. But would this experience live up to its hype? Would the wait be worth it? And will the standby queue be worth it? My answer to all of those questions is a resounding heigh ho! And here's 7 reasons why:
1. An Immersive Experience – And no, I don't mean immersive queues, although this attraction does have a cool one. What I mean is themed lands, which take you out of the "hey, I'm in a theme park in Orlando" experience, and put you in a "wow, I'm in the middle of a fairy tale kingdom with mountains and forests and castles!" New Fantasyland has done that incredibly well, from walking in to an old timey circus with animal prints and peanut shells embedded into the ground, to a Provincial village with a castle looming above a mountain, to a beautiful little town square (that just happens to house some restrooms too). Seven Dwarfs Mine Train has given this new land depth, character and, yes, story. Now when you walk through the castle walls, you see the mountain, but not what's within it. You are treated to foliage, sounds of wildlife, waterfalls, and the faint melody of miners singing a familiar tune in the distance. You are transported and have left the other lands of the Magic Kingdom behind.
2. Family Friendly Ride – I think many of us were wondering just how family friendly this attraction was going to be…Barnstormer? Big Thunder? What about the inside? What was going to happen in there? Well, I was really surprised by the ride itself. It starts off with an instant thrill, but it's not too too fast, and the drops are not really steep or high. It is, in a word, fun. It makes you laugh, it makes you look around at all of the wonderful scenery, and it makes you want to ride again. The height requirement is only 38″, so it is on par with the "first coaster" that many little ones can experience. Depending on where you sit, it can be more thrilling or tame, but it's not as fast or as "scary" as Big Thunder Mountain for those who consider that attraction scary.
3. A Million Diamond Mine! Even though the two couldn't be more dissimilar, when we first traveled inside the mine, my mind instantly went to Radiator Springs Racers out at Disney California Adventure. It's just jaw-dropping to see all of this beauty, hidden within the mountain. The animatronics are unique and incredibly movie-like, the colors and the lights of the gems are just overwhelmingly pretty. You'll be singing along, and not wanting to leave the mine.
| | |
| --- | --- |
| | |
4. A Different Ride Every Time – Seven Dwarfs Mine Train has a very high re-ride-ability factor. Mainly because, like most coasters, you have a different experience depending on whether you sit in the front, middle, or back section of the train. Other factors include how many people (and how heavy they are) are riding with you. When we first rode, it was pretty much solo, which didn't do much for the swinging carts, or even the speed of the train. Later, we rode with a full car and the swinging carts was much more noticeable (but nowhere near the movement indicated in the cgi preview videos from back at the D23 Expo) and the train went much faster around curves. It felt like a completely different ride. And, much like riding Big Thunder at night, the experience on Seven Dwarfs Mine Train at night is a whole other animal. Seeing the views of both Cinderella and Beast's Castles at dusk and then at night are spectacular. And the final scene of the ride is much more visible at night too, so make sure you ride at different times of the day to choose your favorite.
5. Views Unseen Since the Skyway – Speaking of views, when was the last time we were able to see this side of Cinderella Castle from up this high? Yep, way back when the Skyway was running (one of my most beloved and missed attractions!). So I am thrilled to be able to see views like this again, even if it's briefly before a drop on a roller coaster. The views over to Beast's Castle are equally beautiful, and riding by a waterfall and then high on a straight bridge as if we are the dwarfs marching home, is such an enjoyable experience, it just makes you grin from ear to ear.
6. Interactive Queue – I mentioned above how Seven Dwarfs Mine Train has one, and it's quite fun. Not quite as big as some of the other interactive queues in Magic Kingdom, Seven Dwarfs Mine Train has the benefit of being under cover of shade, which will be ideal in the middle of summer (or spring, or fall or winter for that matter!). There's a little something for everyone here, and you can stay as long as you like before moving on to the last part of the queue.
7. Seven Dwarfs Love – One of the enduring take-aways from the Mine Train event was the simple fact that Disney -as a company, and we – as guests, are celebrating, honoring, and shining a light on Walt Disney's first animated feature film, Snow White, 77 years later. That's pretty spectacular when you think about it. A testament to the art and artistry found within the film, combined with the newest Imagineering designs and technologies. What a wonderful thing. While at the party that night – all the dwarfs were out for photos, and as I stopped to take photos with some of them, I really got a new appreciation for their individual personalities. It can sometimes be easy to discount older characters, or ones we see on t-shirts all the time. But when you really stop and think about it, we can all relate to one or two dwarfs, and they really do stand the test of time. I left for the evening with a new love for both the Seven Dwarfs as individual characters and Snow White as a movie. The Seven Dwarfs Mine Train is a love letter to that film and its magic.
So to sum up, Seven Dwarfs Mine Train is a definite hit. It took a bit to grow on me as a ride, but once I experienced it at night, it won me over. The ride is smooth (you can barely hear the trains zooming by), swift, and beautiful with details everywhere and surprises around each turn. Whether young or old, it will be an instant must-do.
Seven Dwarfs Mine Train will officially open on May 28, but with cast members riding this week, I'm sure soft openings are just around the corner. If you're visiting the Magic Kingdom this week, I'd keep checking! 
Here's my video of the full dedication ceremony:
Disclosure: As mentioned at the start, I was invited by Disney to preview this attraction. I was provided with special access to the attraction but my opinions and words are my own. All images within this post are ©Disney