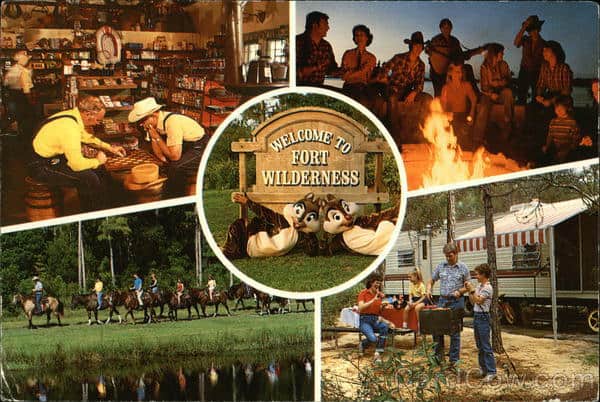 During a visit to Walt Disney World's Fort Wilderness Resort and Campground a few months back, I was filled with an epic case of nostalgia regarding what our beloved Walt Disney World was like when it opened in 1971. I instantly wanted to put fingers to keyboard and reminisce about these times. Granted, I wasn't born when the resort opened, but a handful of years later, I'd be celebrating my first visit to the Vacation Kingdom of the World. Moved by a more recent visit to celebrate Hoop-Dee-Doo Musical Revue's 40th anniversary, I was reminded that I really needed to put my thoughts into words.
Fort Wilderness at Walt Disney World's Opening
What I personally love so much about Fort Wilderness and its restaurant offerings (Trail's End, Crockett's Tavern and Hoop-Dee-Doo Revue) is that this area is really unlike any other part of WDW. You walk down the dirt path from the Tri-Circle-D Ranch and you forget all about My Magic+ and Fastpass+ and the hustle and bustle that comes with a Disney vacation these days. You are brought back to a time when families journeyed to tropical and alluring Florida and the Walt Disney World Resort as a respite from the real world and reality itself.
Shortly after Fort Wilderness opened, the Fort Wilderness Railway was finished being built and began service around the property. This is often discussed among the nerdiest of Disney nerds as one thing we all wish we'd gotten to enjoy, or could enjoy again. Sadly, the swampy land proved less-than-ideal for holding up train tracks, and the upkeep became too much to keep the railway active. Winding through some of the long forgotten pathways at Fort Wilderness on foot, you may spy a few railroad ties here and there as a marker of days long gone.
In addition to its own railway, River Country, the first themed water park, opened at Fort Wilderness in 1976. I have wonderful memories of going there with my parents, and riding all the water slides and the tube ride with my dad. River Country, along with Discovery Island, both of which are now closed and abandoned to various states of disrepair, were once the "must-do's" of our Disney vacations. I do believe both would still be popular today if there were a way to keep them up to date and in shape. While the two current water parks and Animal Kingdom offer more modern, themed, versions than River Country and Discovery Island, there is something to be said for the sweet simplicity of an "ol' swimming hole" and an exhibit of native Florida flora and fauna.
Other than those two spots, the Marshmallow Marsh area of Fort Wilderness is also now no longer accessible to guests. Marshmallow Marsh was originally a ticketed night-time event, where guests boarded canoes and paddled to a faraway corner of Fort Wilderness alongside Bay Lake. While paddling, they sang old Americana songs, which continued when they arrived at the marsh, around a campfire. Marshmallows could be roasted and a perfect viewing of the Electrical Water Pageant was enjoyed, as it stopped near Fort Wilderness' banks. Guests would then paddle back to the other side to get back to their campsites. Marshmallow Marsh events ended in the early 80's, but the area was still able to be reached by a bridge until very recently.
Despite those few changes, Fort Wilderness was, and still is, a wilderness; a place to commune with nature and the real Florida, mixed with some fun western expansion/frontier themes like Crockett's Tavern and Pioneer Hall. It absolutely boggles my mind that there is a place in Walt Disney World where you can sleep in a tent, while your neighbor at the Magic Kingdom gate may be staying in a deluxe two-bedroom villa at the Grand Floridian. And the fact that those two things CAN coexist, is why people keep coming back and have so much varied and passionate history with the Walt Disney World Resort. The unique ability to experience a little bit of the timeless innocence of the Vacation Kingdom in the 1970's is why Fort Wilderness is such an important place to so many.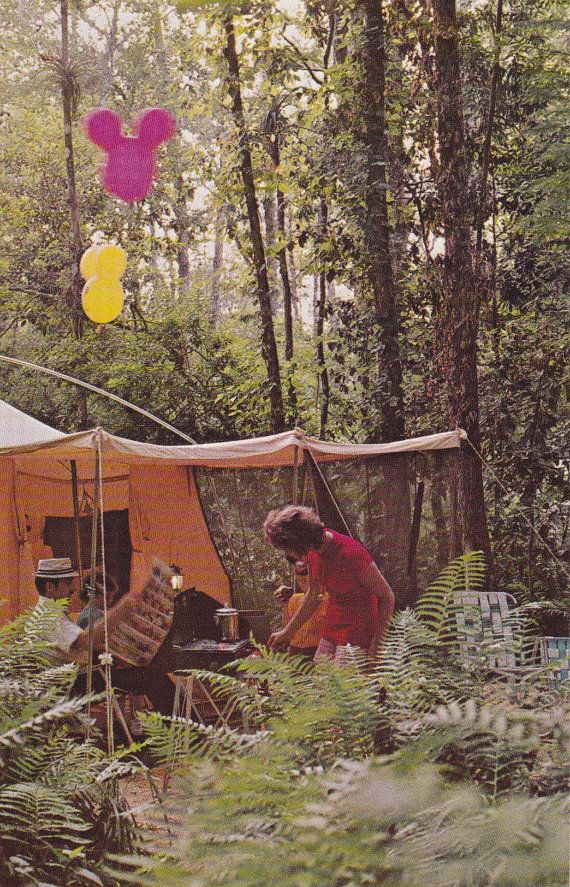 The Vacation Kingdom of the World
Imagine a time when Walt Disney World consisted of just the Magic Kingdom as its only park. What else would families have to do on their vacation to Orlando, Florida? Well, back then, they may have been more likely to venture beyond Orlando to see Daytona Beach, or even Silver Springs and its glass-bottom boats, or the mermaids of Weeki Wachee. But Walt Disney World knew they had some very special 43 square miles on their hands, and went on to create a genuine vacation kingdom.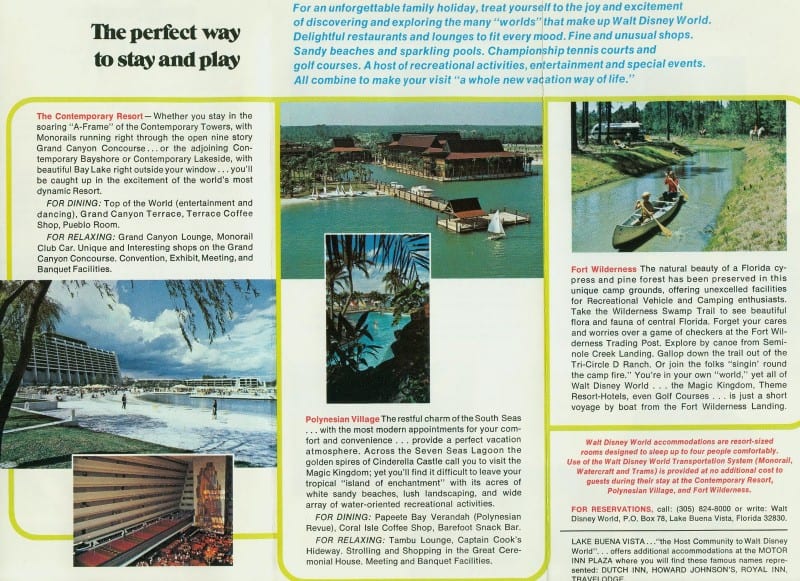 Great emphasis was placed on relaxation and recreation. Swimming, boating, golf, tennis; all of these things were reasons to come and stay at Walt Disney World. By the mid-1970's, there were enough monorail trains, ferry boats, resorts and even the Lake Buena Vista Shopping Village, to encourage you to stay on property and leave the real world (and the rest of Florida) behind. The resort even boasted an official PGA-sanctioned golf tournament, the Walt Disney World Classic played on the Palm and Magnolia courses, begun in 1971.
The lure was not with rides, rides, rides, or even dining or shopping, but a lovely mix of it all. Spend a day in the Magic Kingdom, a day on the links, or enjoying the fun at River Country. End your night with an authentic Polynesian Luau, or dinner and a Broadway-style show at the Top of the World, where California Grill now resides in the Contemporary Resort. If that wasn't your scene, you could head to Fort Wilderness and enjoy the hoopin' and hollerin' known only as the Hoop-Dee-Doo Musical Revue. It was truly, and in every sense of the definition, a place to relax and enjoy pure family fun.
Present-Day Walt Disney World
Of course, decades later, Walt Disney World Resort is still known for family fun and escaping the real world, but it has become a much different place to do so. With the addition of dozens of new hotel and villa properties, Walt Disney World was faced with the need for transportation for the millions of guests visiting each day. To keep those millions entertained and not all crowded into one theme park, water parks, deluxe dining, spas, shops, movie theatres, and more were added, making Walt Disney World one of the busiest and most diverse places to vacation.
Rather than coming to Walt Disney World to relax and escape, families were now coming to "do it all" and making sure they got the absolute most out of every minute of their vacation. It is hard to sell a vision of relaxing in the Florida sun when there are so many attractions that are must-do, special events to coincide with your visit, places to eat, and things to buy to remember it all when you go home.
At the end of the day, we all know that Walt Disney World is a business, and while that business may involve making magic for every family that walks through its gates (or touchpoints), you can bet your corn dog it also involves making sure you are spending money and coming back to spend even more next time. Is that goal different than it was in 1971? Of course, but at the same time, even in the 70's, profit was still a goal.
While Walt Disney himself said, "Disneyland is a work of love. We didn't go into Disneyland just with the idea of making money," we all know, Walt Disney World Resort is not Disneyland. Although Walt may have had very different ideas for what he originally envisioned with his Florida Project, what was created was a mecca of sorts for families from all over the world to experience the now-renowned Disney magic, and stay put to experience everything else the resort had to offer. Times were different, vacationing was different, and certainly technology was different than today.
How Can We Recapture the Walt Disney World of the Past?
So is that simple innocence of Walt Disney World in the 1970's still possible? The answer from me is an unequivocal YES. Places like Fort Wilderness are where you will find the purity and "Disney Difference" in theming and surroundings, which many of us grew up experiencing and now long for. For some, the Disney Difference is found with the deluxe Bibiddi Bobiddi Boutique package or Villains Soiree special ticketed-event-within-a-ticketed-event. I'm sure many have visited the parks and other resorts for years and never even stepped foot into Fort Wilderness! Each guest or family has its own wants and needs from a Disney vacation and certainly my ideal may be completely different from yours. Let's also not forget; every Cast Member has the opportunity to uphold the ideals that Walt envisioned for his parks, and make each guest's experience a magical one.
Parks and Cast Members aside, if you want to be transported to a different time – standing on its own as a testament to Disney Imagineers, their theming, and creativity – head to Fort Wilderness. Walk around. Away from buses, away from hula hoops and golf carts, further in to the wilderness for which this place was named. Listen to the silence that engulfs you. Soon you hear the wind blowing through the cypress, pine, and oak trees. You hear the native birds singing to each other from high up on those tree tops. In the distance, if the breeze is just right, you may hear the Walt Disney World Railroad whistle.
There is a whole other hustle and bustle of attractionsfoodshoppingbuyingfastpassing going on across the lake, but you've left all of that behind to be surrounded by tall trees, winding paths, and even a working ranch with horses. You may choose to go fishing, ride your bike, swim in the pool, or even go for a horse-drawn wagon ride. The fact that attractionsfoodshoppingbuyingfastpassing is going on across the lake, is perhaps why this place is so very important to Walt Disney World history and its future. There is a reason why people go on family road trips to explore the countryside or visit our National Parks. The simple pleasure and renewal of spirit found in nature – and Fort Wilderness is a perfect example of that.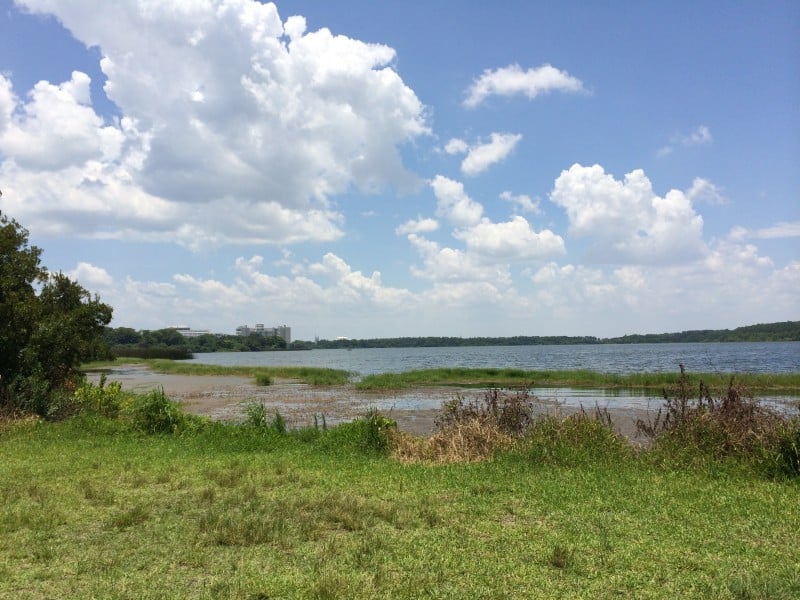 By the same token, there is also a reason so many of us today are tiki fans, or love mid-century modern architecture and decor, or 70's retro style. We long for a simpler time, when all of these things were new and undiscovered. A family from a city in the 70's (or today) may never have known the enjoyment of camping under the stars. A family from New England or middle America may never have been exposed to Polynesian culture, music and food. Walt Disney World's themed lands and attractions  were always a place to experience places or things you may not have ever known existed, without stepping too far away from reality and the safety of a Walt Disney vacation.
The original Walt Disney World resorts just expanded on that idea, letting guests stay in a Polynesian village (with air conditioning), or an old west fort and campsite (with great food and entertainment nearby), or a modern A-frame building with a futuristic train running through it. In a world (and a World) that is constantly changing and improving and trying to do and be the next best thing, it's comforting and peaceful to have a place where none of that matters. A place where it could be 1971, or 2021, and the feelings evoked are the same.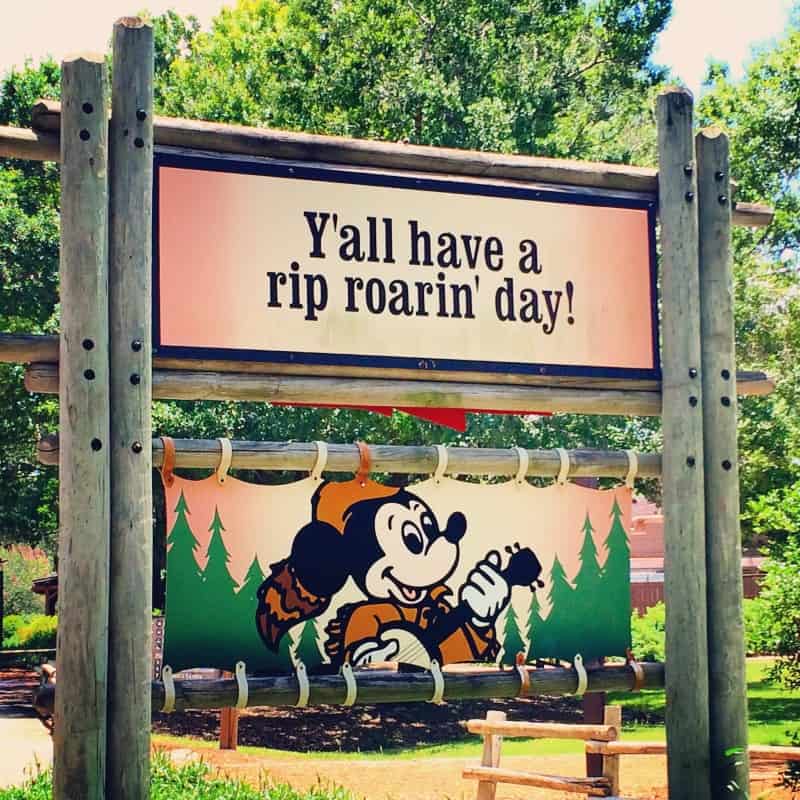 So where does this leave us? Should everyone abandon their favorite resort and stay at Fort Wilderness? Maybe not, but at least visit! Should we stop trying to do/see/eat/buy it all and take a more laid back approach to a family vacation? Well, honestly, in my opinion, yes. But I will admit that as a local, and someone who has been to Walt Disney World thousands of times, my view of a Disney vacation may be very different from that of a family that has saved 5 years for a once in a lifetime trip, or even a once a year trip.
At that point, because you are investing a lot of money and precious vacation time, of course the priorities shift. You have to make your 5 year-old and your 15 year-old happy, or make adjustments for your grandma that's coming along, or your in-laws that are joining you, or even just your friend that wants to do nothing but thrill rides. There is a lot to consider and plan and prepare for. I'm sure a rainy day, which equals a resort day, chilling out and wandering the grounds for me, may mean crying children and frustrated parents that feel like they've thrown an entire day and hundreds of dollars out the window. So I get that, trust me.
Take a Step Back
Consider a time where vacation success wasn't built upon how many rides you got to do. Where you made memories outside of the ride queues and souvenir purchases? Even when I was living in Massachusetts and we'd drive or fly down for a 7-10 days in the 80's, we would have at least one day of doing just nothing but relaxing. We'd rent a boat, or hang out at the pool, or River Country, or even spend some time at the Village (which was very different than the Downtown Disney of today). I also distinctly remember my parents having "quiet time" every day where they would relax with a book and a stiff drink and I'd entertain myself for a bit.
There's nothing that says a Disney vacation must be some sort of a "do-or-die" checklist. Disney has these places, these nooks & crannies and off-the-beaten-path activities or spots for you to experience and enjoy. Take some time to appreciate the very different resorts and grounds at Walt Disney World. Appreciate and enjoy your travel-mates and family. Go on a stroll or a jog by yourself and savor your time away from the hustle and bustle of what a Disney vacation has come to mean.
And certainly Fort Wilderness does not own the market of places where you can relax and unwind, or appreciate your surroundings. I could spend all day hanging out at Wilderness Lodge or the Polynesian Resort. The Boardwalk Resort is one of my favorite places during the holidays, because of the 1940's music playing in the background and the decorations that remind me of my grandmother's house at Christmas.
Disney's Port Orleans Resorts, both French Quarter and Riverside, offer some of the best grounds, walking paths and theming of any Disney resort, in my opinion. Not to mention unique food offerings (but seriously, turn the old Bonfamille's into Tiana's Place already – it's a no-brainer!). I'm sure we all have our favorite resorts for different reasons but some are definitely more conducive to a quieter, gentler Disney vacation where you can and should stop and take time to enjoy the details that have sprung up around you as explore.
Look at the success of the Little Orange Bird's triumphant return to his roost. We clamor for vintage attraction merchandise – so much so that they created multiple lines on both coasts and an entire shop dedicated to selling it here in Orlando. Our Disney obsession is with finding a Disney that lets us experience the feelings we did when we were younger, and felt those feelings for the first time. Fort Wilderness is that Disney – a precious time capsule that we get to open every time we visit the Vacation Kingdom of the World. We owe it to ourselves to appreciate this special place unlike any other in the Walt Disney World Resort.
Also, you seriously can't beat the cornbread at Trail's End and Hoop-Dee-Doo. Trust me.